Cheesy Pretzel Rolls…Obsession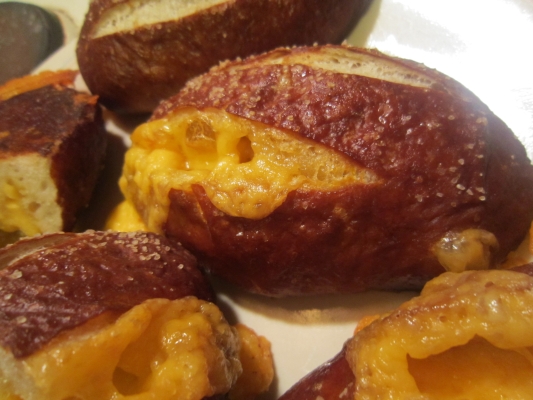 I get these sourdough obsessions.. you might do this too… I just can't stop thinking about baking something. I get an idea in my head, like say for instance, pretzels. So I just keep thinking about pretzels. I didn't really want to make pretzels this time, but something within the theme of "pretzel."
So, I came up with the idea of pretzel bagels.. Yum! I thought to myself, but I looked online and there were yummy pretzel bagels all over cyberland. So instead of thinking of something new… I decided to think of something I really wanted to eat! I ended up thinking of Cheesy Pretzel Rolls. A roll that you could slice for a sandwich, with a pretzel outside and melted cheese chunks in the crumb.
So here it is:
Sourdough Cheesy Pretzel Rolls – will make about 3 lbs/1460g of dough at 61% hydration.
Make up this dough at 3:00 in the afternoon and put it away in the fridge overnight after only bulk fermenting three hours.  Next day, take the dough out and let it ferment two to three more hours before shaping. While it is warming up and fermenting, fold it once each hour.
In your mixing bowl mix together:
8 oz/226g vigorous bubbly starter
15 oz/425g water
1 oz/28g oil
16 oz/453g All Purpose flour (11 oz of additional flour will be added after autolyse)
Mix the above ingredients together with a large mixing spoon and then allow the mixture to autolyse (rest) for 20 minutes.
After autolyse, add:
.5 oz/14g salt
11 oz/311g All Purpose flour (you can substitute 2 oz whole wheat flour for extra flavor)
Mix all of the ingedients together just until well incorporated and then let the dough ferment for three hours (covered). Fold the dough two to three times during this time. when your bulk fermenting is done,  refrigerate the dough in a covered container until the next day.
Note: If you wish to bake same day, start this dough early in the morning and bulk ferment for six hours before shaping.
Next morning take out your dough, uncover it and allow it to warm up and ferment for another two to three hours. Then shape.
To shape, divide dough into sixteen pieces at approximately 3 oz each. Chunk up one pound of cheese into small chunks and fold in about one oz of cheese chunks for each roll: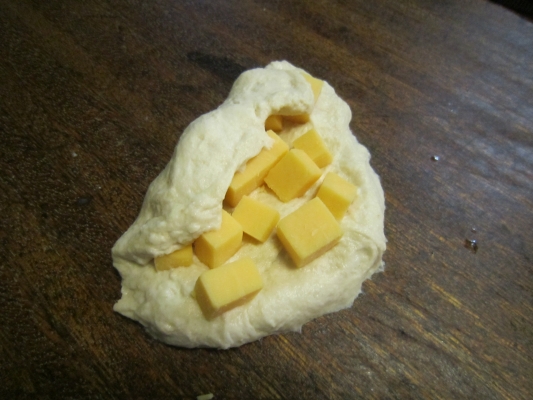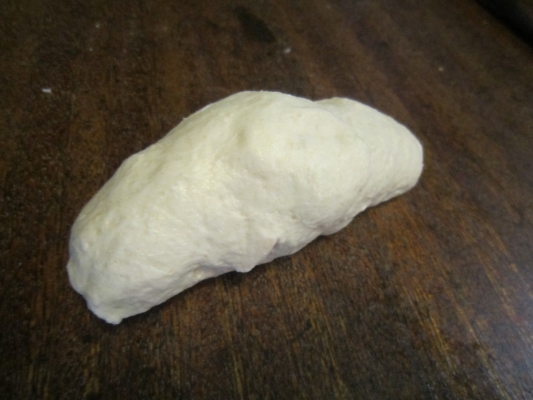 Place all rolls onto a greased baking sheet and allow to final proof for two hours. Don't cover, allow the rolls to form a skin.
When the rolls are ready to bake, preheat your oven to 425F degrees. Also prepare a large pan or skillet with three quarts of water, one cup of baking soda and one tablespoon of salt and bring to a simmer.
Simmer the pretzel rolls only on one side (the top) for about 30 seconds and remove with a slotted spoon. If you notice the cheese chunks falling out the bottom of the rolls, push them in and re-pinch the seam. Place rolls that are finished simmering on a greased baking sheet and glaze with beaten egg wash (beat one egg and one tablespoon of water together). Then sprinkle coarse salt over the top.
When the pan is full of finished rolls, slash and then bake at 425 F for 18-20 minutes. No steaming needed. Once the rolls are done baking, remove them from the baking sheet right away or they will stick.
Note: If you have kids, they will fight over who gets to eat the crispy, chewy melted cheese.
Place on a grate and cool. Don't eat while hot as the cheese can be very hot! These are small rolls, if you wish larger sandwich rolls make 4 – 5 oz sized rolls. To store, place in a brown paper bag, if you use plastic, the rolls will get soggy. Most of all, enjoy!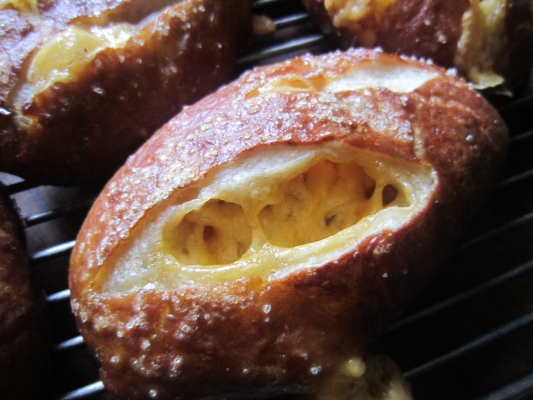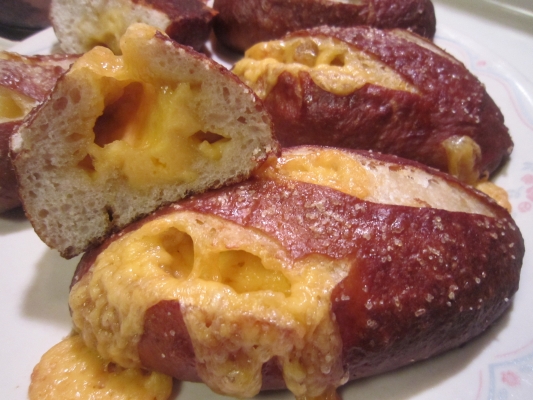 Sent to Yeastpotting… check it out!