Fig-caccia!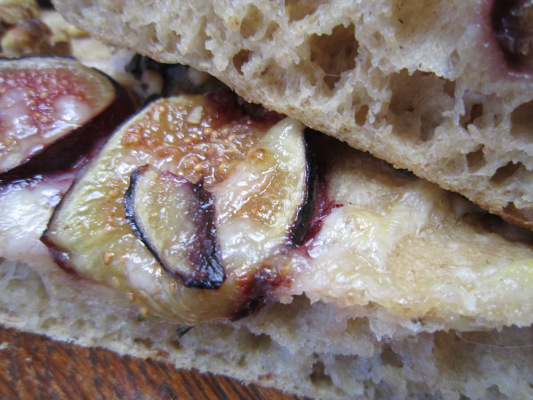 I've been busy all summer, baking at the new bakery in town. So I haven't had a lot of time for baking in my own home. Today however, I decided to be creative and do something new. My sweetheart bought me some fresh figs because he knows how much I love figs. So I whipped up some dough @ 77% hydration and made some Fig-caccia! It is studded with fresh sliced figs, walnuts and some white cheddar, after being slathered with organic olive oil and fresh rosemary. The taste combination is a real winner! The figs juiced out slightly and the walnuts toasted while baking as the cheese kind of glued things together.
Fig-caccia!
Dough Formula:
375 g  vigorous starter @ 100% hydration
600 g  water
20 g olive oil
500 g whole wheat flour
100 g of rye flour
240 g white flour (ap or bread is fine)
19 g salt
Mix all of the above together. The dough will be wet. Put the dough into a covered container and fold it four times as it bulk ferments for five hours.
Refrigerate overnight.
Next morning take out your dough and divide it in half. One half was used to make Fig-caccia.  The other half was used to make Cheesy Topped Loaf.
You can make two Fig-caccia instead if you like.
Stretch out the one piece of dough onto an oiled parchment paper.
Spread with Olive oil and allow it to proof for about 2.5 hours.
When ready, top with sliced fresh figs, walnut pieces, fresh rosemary and sprinkle with white cheddar (use amounts based on what you like).
Bake at 450 degrees on a hot stone for about 10 minutes. Slice, serve.
I was thinking this Fig-caccia might be good with a sprinkling of coarse sea salt on top as well…..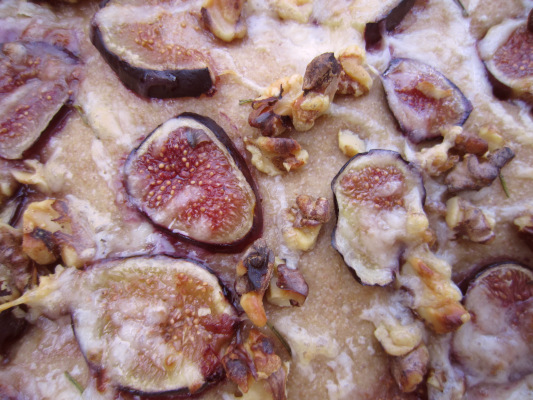 Don't forget to see what I did with the other half of the dough…. Cheesy Topped Loaf.