Italian Sourdough
I have been corresponding with a man from the Emilia-Romagna Region of Italy whose name is Luca. He has his own wood fired oven in his backyard (jealousy here) which was built by his grandfather.  Luca has graciously given me permission to share pictures of his bread and has provided us with a recipe for Focaccia.  He has also send me some of his own Italian sourdough starter which I have been trying out.
.
After I got the Italian starter going, I used a recipe that Luca sent me which he said was an interpretation of the no-knead recipe by Jim Lahey, from the Sullivan Street Bakery of Manhattan, which appeared in the New York Times. The original recipe called for commercial yeast and Luca made changes to the recipe for use with a sourdough starter. Here is the recipe he sent me:
No Knead (Ciabatta) adaptation by Luca Tincani:
Sourdough starter 100% hydration – 60g
water – 350g
flour – 500g
salt – 8g
.
Here Luca describes in his own words his method:
" I usually mix the ingredients (flour and salt first and then starter dissolved in water) at 8 pm, and in the morning, at 11 am, I scrape the dough on a well floured surface, forming a ball or a ciabatta. Then I light my oven at 1 pm and I'm ready to bake at 2 pm (I have a wood oven in my garden). The breads are nicely holed and they last for all the week long.
I began with the mix method, of course, but I don't have any mixer, so I found the no-knead far more convenient for me, as I usually bake 4 kilograms of dough at a time."
.
This recipe makes about 918g of dough. Luca felt this recipe was a bit too sour so he came up with Fennel Seeds Ciabbata:
Here is a .pdf file for Luca's updated Fennel Seeds Ciabatta:                 Click here  >>> Fennel Seeds Ciabatta
.
I changed the regular Ciabatta recipe to standard measurements and also modified it for those who use a 166% starter and tripled the amounts for a batch made in a mixer:
Sourdough starter at 166% hydration – 6.3 oz
Water – 36.5 oz
Bread flour – 54 oz
salt – .8 oz
.
Put all ingredients together in your mixing bowl and process just until well mixed. Then autolyse (rest) for 20 minutes.Then mix again for one minute. Next put dough into a large container and allow dough to ferment overnight. Next morning shape loaves. Proceed as usual (Allow dough to  proof, bake in a hot oven). Pictures are at the end of this post. This recipe makes a little over six pounds of dough.
.
Both of the above doughs are 71 % hydration. So the dough is a bit wet and a little more difficult to handle. Make sure to keep your surface floured and your dough floured as you handle it.
.
Here are some pictures of Luca's bread which he handled and baked like a Ciabatta:
Here is a picture of Luca's wood fired oven which his grandfather built:
.
Following are some pictures of Luca's Ciabatta bread baked in his grandfather's oven:
.
.
.
.
Meet Luca with a loaf of his bread:
.
Here is a .pdf file with his recipe for Focaccia bread which he explains…
"The Focaccia bread is an original Ligurian recipe, baked in a kitchen oven, no adaption. It is a very old and simple recipe (since 1490 from Wikipedia), very famous in Liguria and in Geneva, in particular. Ligurians eat Focaccia either at breakfast, even dampened in milk and coffee (go figure…), or as a snack with a glass of white wine."
.
To see the Focaccia Recipe click here:     >>>>>Focaccia Ligure 
I made up some loaves of bread using the second recipe adapted for 166% starter and for the mixing machine. This recipe made three two pound loaves:
.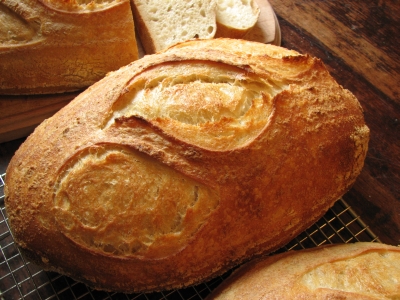 .
.
.
.
These breads were the first batch of bread using the Italian Sourdough that Luca sent to me. The dough was bubbly and vigorous and the bread tasted very good. The starter was very active in three days and has a great smell and flavor. It is similar to the Northwest starter in proofing and it's vigour. I intend to make the Ciabatta loaves next with it. I would like to be able to say one day, that I am going to fire up my wood oven and bake up some Italian Ciabbata!
Thankyou so very much Luca, for sharing your pictures and recipes with us!