My Favorite Baking Equipment – Gotta – Wanna –

I am often asked where I get this piece of baking equipment or that one. I have done a few posts on singular items but no posts on an inclusive list of baking equipment I use or want to use. 🙂
These are mostly Amazon links and I am an affiliate. It won't cost you anymore to use my links, but it will help me out. Also, if you pull any live link to your desktop and use it as an entry portal every time you use Amazon, I will be credited a small amount and lots of small amounts adds up to large amounts and then I can get my kids bigger clothes (they don't seem to stop eating) 😉
So here goes:
KD-8000 Baker's Scale
Scale – this is the most important piece of baking equipment to me. Yes, I can bake without one, but it is like communicating without using words. Baker's speak to other bakers through the scale. My hands down favorite affordable scale is the KD-8000. You will need to program it when you get it so it doesn't do an auto shut off (!!! what? I just measured half of my flour!!!) and please get the ac adapter that goes with it so you don't have to worry about batteries.  It has mult-baker's languages like metric, standard and even baker's percent. I keep planning to do a video to show everyone how to program the auto shutoff and how to switch between modes, tare and also use the baker's percent function. Click on the picture to see it on Amazon.
Baking Stone
I use the heavy thick Fibrament Baking Stone, you can order one that fits your oven. It's awesome and I don't have to worry about it breaking as they will replace it if it somehow does.

Roasting Pan Lid or Bottom
Roasting Lid/Cover    Get the largest roasting lid by length that you can, don't get one with the handles sticking up but sideways instead. Use either the top or the bottom, whichever is deeper. I also like to use a large rectangular one like the one below. You can also use a large stainless steel bowl turned upside down and screw a heat proof knob or handle on the bottom.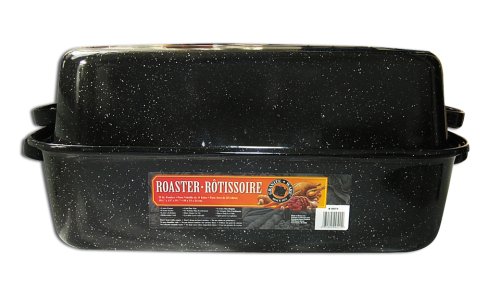 Dutch Ovens
Almost any Dutch Oven will work but a lot of bakers like Lodge cast ironware. 
Dough Folding Trough/Box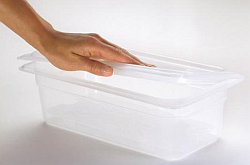 I did a whole post on this item here.  I own a 6″ and a 4″ deep trough/container. They both fit into my Brod and Taylor proofer.
Here is a link the 6″ deep container: 6″ deep
Here is a link to the 4″ deep container: 4″ deep
Here is a link to the lid that will fit both 4″ and 6″ sized containers: Lid fits both   or  this one.
My favorite lame is the one handcrafted by my son. He sells it on King Arthur Flour site, also Food 52 and Amazon. It is very beautiful and now comes with a thumb guard. If you don't want to purchase it on Amazon, you can find his site here: https://zatoba.com
Grain Mills
I use two mills for grain grinding, the one I find indispensable for grinding from fine flour all the way to a coarse cracked grain is the new Mockmill 100 and 200: You can view a video on it here:
Grain Mills  The other mill, one I like for high volume great fine flour and that is the Kitchen Mill:
Bench Knife and Bowl Scrapers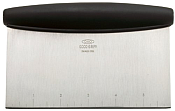 My favorite bench knife is the OXO but I have a few and use them all. I prefer one with the rounded grip just because it feels better. Some work better than others for cutting butter but since we are not cutting much butter ( I did a lot of butter cutting when I worked in the bakery) it doesn't matter too much.
Bowl Scrapers are nice when you want to clean sticky dough out of your bowl or even your hands.
Various styles ( you can also cut one out of a coffee can lid in a pinch).
I've been using Cambro containers for years. I love the 2 liter/2 quart size for keeping my sourdough starter (it's the one you always see me use in the videos). The larger sizes are wonderful for bulk fermenting or keeping larger amounts of dough or storing your flour.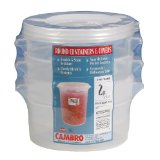 I just have to have a peel. When I bake at someone else's house, I find myself using the back of a cookie sheet or whatever I can find to move my dough. I like to use peels for that. Any peel that is large enough and has a nice thin blade or board will work. Avoid thick peels if you can, they can't easily scoop up a loaf, unless you are adept at moving proofed dough manually.
 Baguette or bread flipping board:
Thick oven mitts
There is a huge variety of Kitchen Hot Mitts Make sure you get them good and thick and if you can get the longer ones, so much the better as your arms won't end up looking branded, like a baker's arms. 😉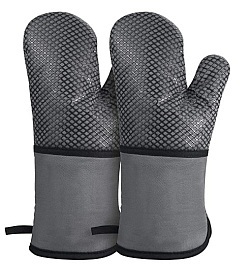 Bannetons/Brotforms/Baskets
Bannetons/Baskets  I did a separate blog post on this subject, just click on the link for more info.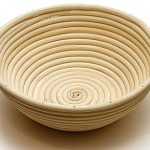 Large silicone spatulas and wooden spoons/paddle
It's great to have at least one really good spatula and wooden spoon or paddle for mixing dough. I have selected two that have really strong wooden handles.
Couche/Linen
Here's one style  (click to see)
Here's another cool looking couche: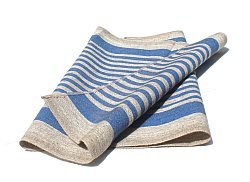 I love using my couches when I want to make baguettes, batards or any of the lengthwise loaves. They are also great for laying out bagels etc.
If you have an industrial sewing machine or a good serger, you can buy marine canvas to make your own couches, that is what I did.
Proofer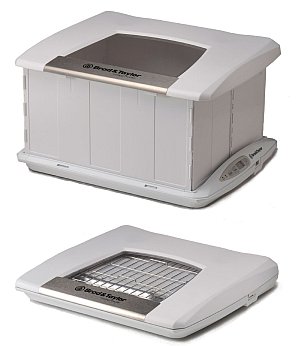 Everyone who knows me know how much I love my Brod and Taylor dough proofer. I would rather put my money into the proofer rather than a dough mixer. I use my proofer for various steps in bread making and I also use it to make Greek Yogurt.  The second image of the proofer shows how it folds for easy storage. Anyway, I LOVE MY PROOFER!
Often overlooked, but you really need a cooling rack for your baked goods.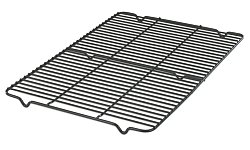 Sharp Bread Knife
This Wusthof Knife  is a 9″ blade at a great price- Sharp beautiful, super quality! Yay, I finally found one I really like!
There is a 10 inch blade that is almost twice the price but you can find it on Amazon if you do a search here: 10″ blade Wusthof
Digital Timer
This is my favorite digital timer, you can even wear it around your neck! Polder portable digital timer.
 Cutting Boards 
Interesting cutting boards that you can have engraved with your bakery logo:
Wisconsin Cutting Boards  Use the code NWSD at check out for a $10.00 discount.
Dough Mixer
I had/used several dough mixers, Electrolux Assistent, KA, Bosch, Blendtec, etc. in the past. I let them all go in favor of dough folding. But if I had to get another one, my favorite was probably the Electolux Assistent with it's dough "roller." Some of the other mixers were great for cookies and pastries, etc, but they were too fast/rough for bread dough in my opinion or too small or….whatever. Mixers are like an addiction, you always want a bigger, stronger and better one. Would I like another one? Possibly someday, but for now, I have my handy dandy mixing trough that I like just fine. 😉
Edited to add, I now have a Professional Kitchen Aid, it isn't the best home mixer, but it works great for the price. This particular model has the strongest motor of all of the home KA mixers at one horse power.  I find I need one for various reasons as I get older.
 If I've missed any equipment you want me to talk about, just drop me line or comment below.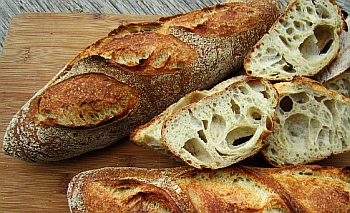 For those of you who want to join a sourdough baking class/course.  The link  below will take you to a page with descriptions and discounts for my online sourdough baking courses.  The courses are online, self paced and you will have lifetime access once you join.  You will receive a certificate of completion when you are finished with each course. Come On and join the fun!
SEE ALL OF MY BAKING COURSES HERE: ONLINE SOURDOUGH BAKING COURSES
.