Time and Temperature Experiments with Modified Gluten Bread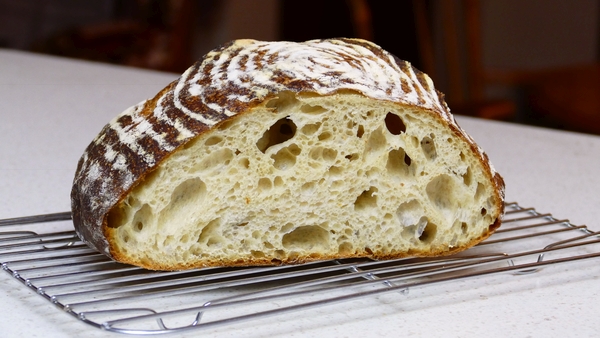 Hello everyone! I've been experimenting with time and temperatures from the Modified Bread formula from my course "Extreme Fermentation." What's really great about this bread is that you can do endless experiments to find out what the bread will do, especially since the batch is large. 
With my latest batch of Modified Gluten Bread I mixed up the dough in the morning and added an additional 25 grams of flour to make the bread just a tad lower in hydration. It was because I used freshly ground Spelt flour in place of the usual whole wheat flour and I didn't have enough bread flour for the formula. I realized that with the weaker spelt flour and not having enough bread flour for strength, I ought to add a bit more flour so the lower hydration would make up somewhat for the weaker dough that I knew might result, I decided to that instead of withholding water since the amount was small and I wouldn't have to change the salt amount.
Anyway, I mixed up the dough in at 10:00 am and then kept it at 72F/22C for six hours autolyse and then an additional six hour more after adding the extra water and salt (see formula in the course if you don't know what I'm talking about).
I have an enclosed solar room which is the same as an enclosed porch which stays between 40F/4C and 50F/10C during the winter. So after 12 hours at room temperature I put the dough out on the porch/solar room. Next morning I took 1/3 of the dough and shaped a loaf which I then proofed and baked. You can see the result above. It came out super! Wonderful soft springy crumb and the flavor is amazing! The dough was a slight bit weaker so I just handled the dough with care.
Tonight I took the rest of the dough and make up two additional loaves, the dough was soft, bubbly, still has plenty of strength and was at 47F/8C. I will be shaping these loaves soon and will put them back out on the porch overnight. By the time I bake them tomorrow it will be around 48-50 hours of fermentation at a warmer temperature than in the fridge. The flavor of the first loaf is amazing and the crumb and crust are terrific, so I am hoping for more of the same for tomorrow's bake.
Edited to add photo of the bread baked the next day (Jan 1st):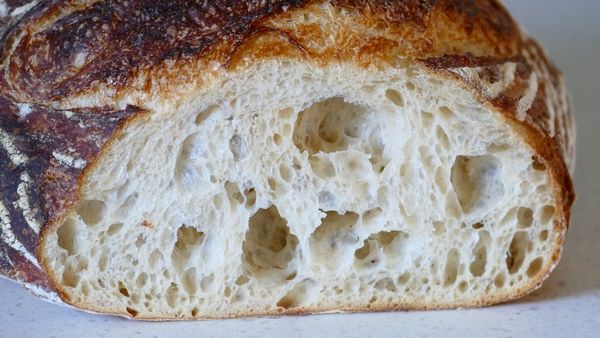 I like a tangy loaf so these experiments are towards that end. It's taken me years but I finally broke through the "how to get your dough really tangy" wall. I hope all of you in the course have been having fun baking this formula and will take some time later on to experiment with time and temperature. I would love to hear back about your experiments.
If you haven't yet joined the newest online course, come and and jump on board, there are still some $10.00 coupons left to join:  
https://www.udemy.com/extreme-fermentation-sourdough-bread/?couponCode=NEWCOURSELAUNCH
---
The rest of my online baking courses are still at the holiday discount of $10.00 each as well, just go to my profile here: Teresa Greenway  select a course and use the code: MERRYCHRISTMAS to get any of the courses for $10.00. Last day to join at this discount price is Jan 1st, 2017.
Happy Baking and a very Happy New Year!  Teresa