March 5 and Rose's Cafe/Bakery
March 5, marks the second anniversary of my escaping an abusive situation. Each March 5, I light a candle, let it burn all day long and ask others to do so as well – to remember those who have lived with and suffered (are still suffering) or died from abuse.
.
I started the day with visitors outside my front door: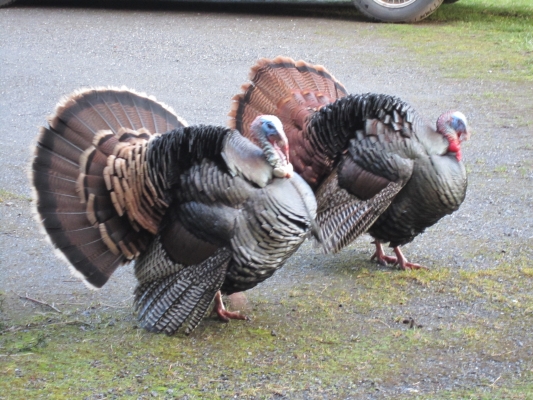 They did a dance and preened and each tried to be the most impressive! There are a few females in the group as well but they were hiding.
.
I spent the rest of the day doing things that made me feel good. I baked early in the morning 🙂  I made three loaves of Big Bear's Bread. When I was done, I went out and shared the loaves with a family, a friend and a bakery. The bakery is called Rose's and is here on the island. They have a cafe/bakery setup and serve some of the nicest food on the island. I found out that their bakery bread is fantastic as well.
.
First I went to lunch at Rose's and had a provolone, red pepper, tapenade sandwich made with their own fresh baked baguettes. The baguette sandwich was exceptional, so afterwards, I went into their bakery which adjoins the cafe (ah the cafe has a masonry pizza oven! I will have to get a pizza next time) and they had some really nice looking breads lined up. There was a Garlic Walnut bread that is on my "to get" list for next visit.
(Edited to add a picture of Rose's wonderful Garlic Walnut Bread)
They had a variety of artisan loaves which all looked so good. I bought a seeded baguette to take home.
.The bakery also offered a variety of goods that a baker would find interesting. Cooking/baking tools, nice kitchen cloths, flours, specialty olives and cheeses, etc. I did not have my camera 🙁 so I did not get any pics, but I will take it next time and do another post. If you are visiting the San Juan Islands, be sure to stop by and check out this exceptional bakery/cafe called Rose's on Orcas Island.
.
Here are some pics of their seeded baguette. The flavor was really good. It had a buttery, wheaty flavor, a creamy crumb and great chewy crust. I would guess they used a liquid levain or poolish for the formula.
I bought the tea towel in the background from their bakery store, it was made from bamboo fiber.
I ended the day with some dark chocolate and a glass of red wine. It was a good day, the sun even did an encore and you know how that makes me feel!
March 5, light a candle.
.