Course Info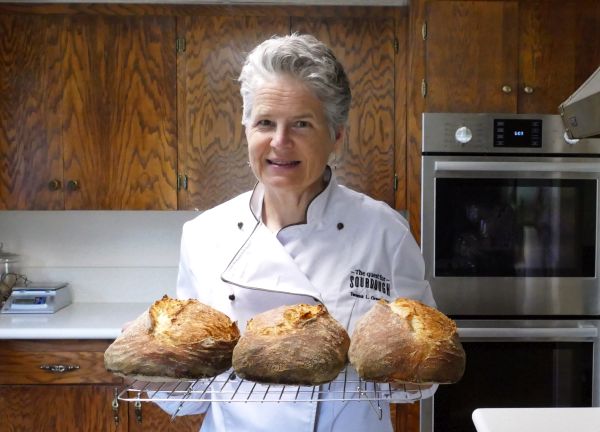 Hi My name is Teresa Greenway and I teach sourdough baking on the Udemy platform. All of my baking courses are online, at your own pace and life time access. You will receive a certificate of completion when you are finished.
I use 100% hydration starter and teach you how to make your own starter and motherdough with a free downloadable e-book (available in the course). Easy step by step instructions so you can bake real sourdough too. Each course covers the basics, so the courses can stand alone or you can take them all one by one.
I've had so much fun interacting with bakers in my baking courses! Visit each link to find out more about each class and read the reviews. Here are discount links for those of you who have come to this page:
---
The course to start with if you are a beginning sourdough baker: (You do not have to take the courses in order but it is helpful for the first three courses).
Course #1 Sourdough Bread Baking 101
This course is an easy introductory to sourdough baking. You will learn the ropes by making only two loaves of bread. The first loaf is a basic white loaf and you will learn step by step through following lectures and videos how to make your sourdough starter and then how to bake a loaf of real sourdough with it.
These are the two loaves we make in this course (there is also a variation loaf) :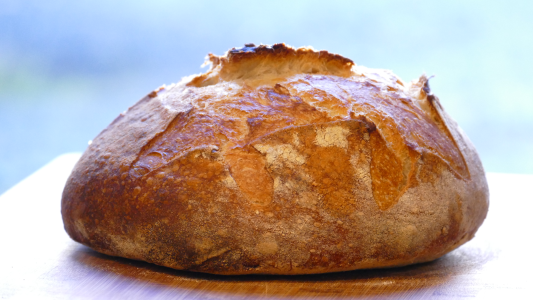 ---
Course #2 -Bake Artisan Sourdough Bread Like a Professional
The next course has a lot of fun baking formulas. We start out with a favorite, Alaskan Sourdough bread and we move on to learning about autolyse and pre-ferments like motherdough. You will make a motherdough bread called Tyra Loaf and then onto a wonderful blister crust sourdough. There is a 100% whole wheat loaf, Ciabatta, March Madness and even a beautiful chubby baguette. Here are some photos of the breads we bake in this course: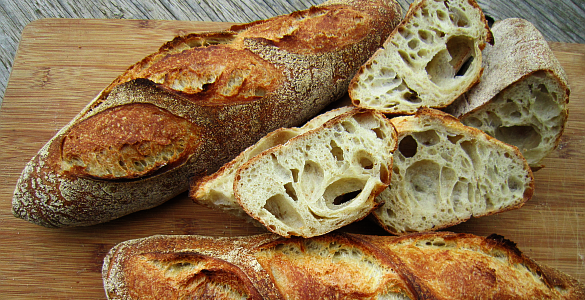 )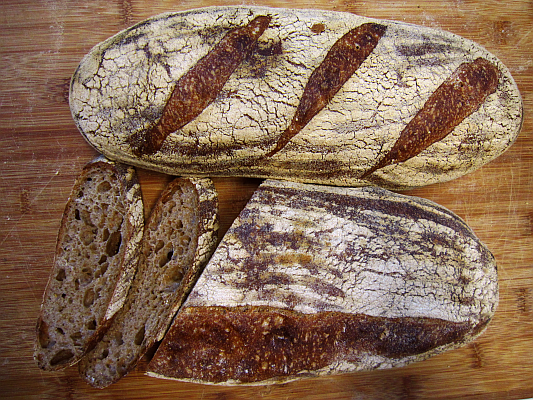 There's a surprise in this course – Forbidden Chocolate Cake and Ginger Cake!
---
Course #3 – Bake Classic Sourdough Bread Like a Professional
In this course we start out with classic baguettes, ficelle and dragon baguettes then move on to Mill grain, Sandwich loaf, a huge Miche, Basic white, Country Hearth, Fendu, Onion Rye with Caraway and everyone's favorite, Flaxseed Heaven.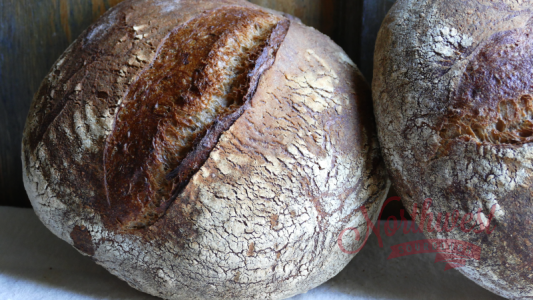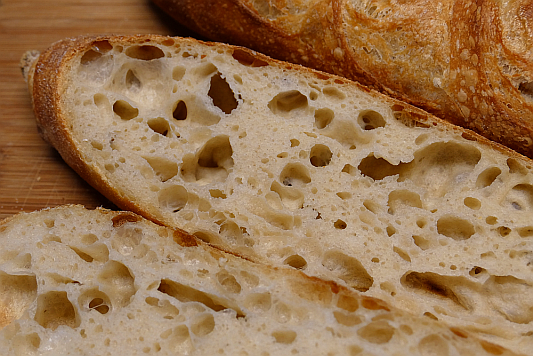 ---
Course #4 – Sourdough Bread Baking for Breakfast! Old Fashioned Favorites!
Old Fashioned Sourdough is a fun course using not only sourdough, but some baking soda and baking powder for some old timey baked goods like cornbread, cinnamon rolls, skillet cornbread, scones, flapjacks and more. See some photos here: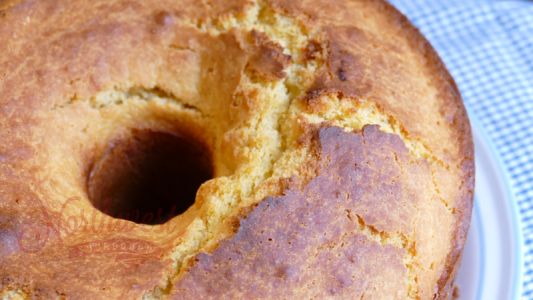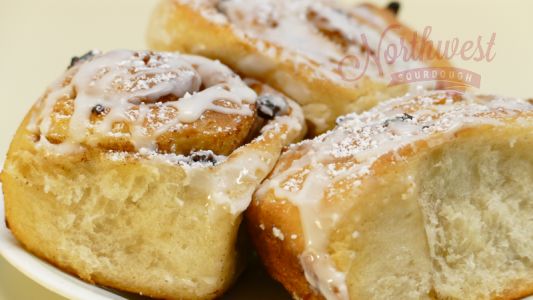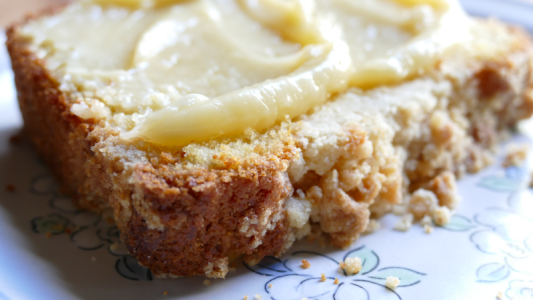 ---
Course #5 – Bake the Best Bagels
Bagels, bagels! Everybody loves bagels! In this course you will learn how to make water bagels, egg bagels, onion poppy seed bagels, raisin whole wheat bagels and more!
Some photos of the bagel course: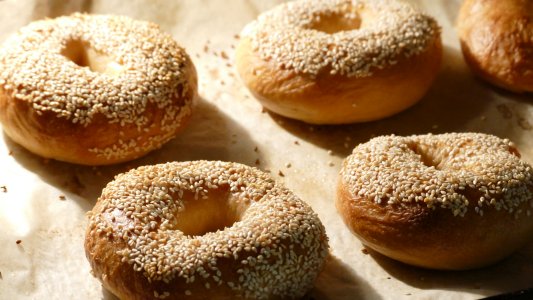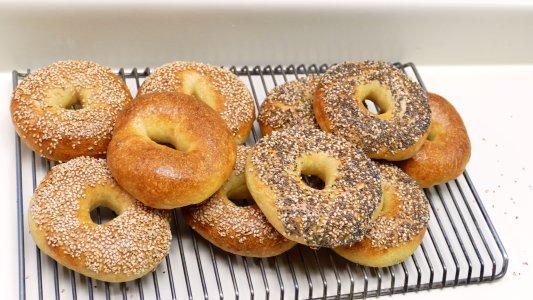 ---
Course #6 – Learn to Bake Magnificent Challah
In this new course I cover three types of Challah's, a commercially yeasted dessert Challah, a hybrid Challah using both commercial yeast and sourdough and a sourdough only Challah. The course took me many months of testing formulas with help from a group of formula testers (photos from the test bakers are included in the course).
Here are some photos of the Challah's baked in the course: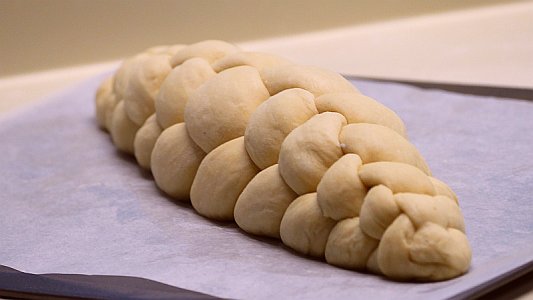 ---
Course #7 – Bake the Best Pizza – Neo-Neapolitan Pizza Crust
In this new course learn to make a terrific pizza crust using a hybrid dough (with both commercial yeast and a sourdough) There are variations for a sourdough only crust and a commercial yeast only crust.
Here are some photos of the pizza's baked in the course: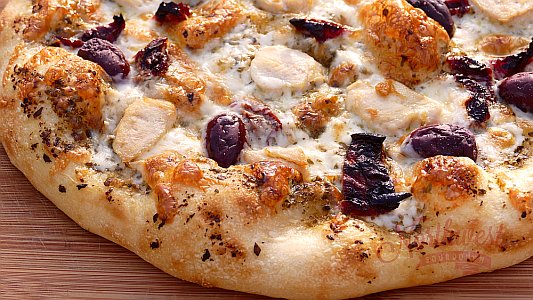 Course #8 Sourdough Bread Baking Experiments
In this course learn to let go of standard forms of baking and venture out into experimental baking. See how to boil bread, work with super high hydration dough, play around with heritage grains and more.
---
Course #9 Extreme Fermentation – Bake Modified Gluten Bread
My 9th course covers extreme fermentation using a very small amount of levain and allowing the dough to ferment over many days. I also show how to obtain the "sour" in sourdough or how to handle dough to make "mild" sourdough.
This course is a take on the "Do Nothing Bread" by Yohan Ferrant. You will learn how to make a large batch of dough and bake it off over the course of several days and gain an understanding of how long fermentation modifies the gluten to make it more digestible for those with gluten issues.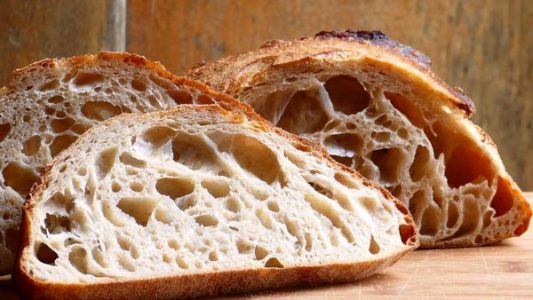 Course #10 More Fun With Sourdough Bread Baking
In my 10th course you will find several fun new sourdough breads to bake. You will also learn to use bread binders. We will be incorporating more whole grains into our breads with this course. See the photo below for photos of some of the breads:
Click on the links to find out the details of each course.
To see all available online courses go to https://northwestsourdough.com
Teresa