San Francisco Sourdough with Motherdough too
Yesterday I mixed up a stiff sponge with San Francisco Starter, flour, water and some motherdough starter (aged dough). I left it overnight in a 50 degree pantry. The sponge was very nice and bubbly by this morning:
I added the rest of the ingredients this morning and let it ferment for five hours. When it was done I poured it out on a lightly floured surface. The dough was very active and lively.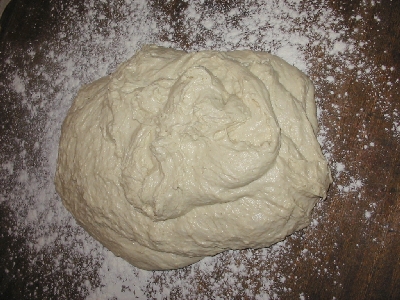 I shaped the dough into two loaves weighing 2 lbs and one weighing almost 1.5 lbs.
I put the loaves into the banneton and let them proof for two hours. They baked up with the motherdough signature reddish hue: