Berry Cheesecake Dessert Pizza
Want a cool pizza on a hot day????
I thought maybe it would be fun to play around with dessert pizza. I have never really been fond of dessert pizza, but that might be because I only ever tried one sprinkled with cinnamon and sugar. I have a great fondness for blueberries, I also like strawberries and most other kinds of berries. So I decided to make a berry cheesecake dessert pizza. The results have been very tasty!
.
I experimented with different ways bake the pizza with the cheesecake topping  and berries, to see which way worked best. Because of this, I ended up with three really nice pizzas and not enough people to eat them! So I cut up the pizzas, put a food box on my bike and cycled around town handing out slices of dessert pizza. It was a fun way to spend a sunny mild summer day here in Washington state (yea, yea, I know the rest of you running air conditioners full time are jealous).
.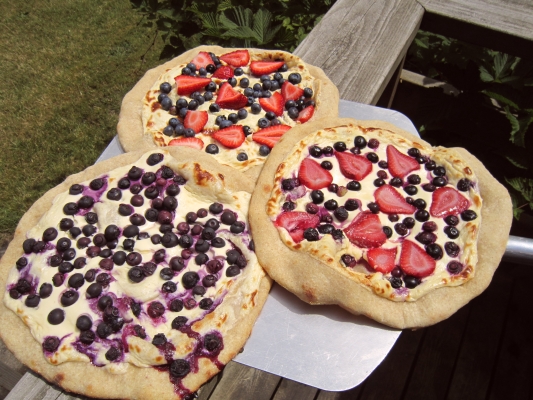 So here ya go…
Berry Cheesecake Dessert Pizza (will make three 11 – 12″ pizzas):
3 oz/85g sourdough starter (I used my whole wheat starter to add some kick to the crust)
14 oz/396g water
(for a chewy crisp crust do not add oil, for a softer crust add up to 1 oz of oil (14 – 28g).
22 oz/623g bread flour (divided)
.4 oz/11g salt
About 2 lb 7 oz/1117g of dough at 66% hydration.
In your dough folding trough or mixing bowl, stir together the starter, the water (add oil if you choose) and 14 oz/396g of bread flour. Let the dough autolyse (rest) for 30 minutes. Then add the salt(.4 oz/11g), stir it in well and add the rest of the flour (8 oz/226g).
Let the dough ferment in a covered container for 3 hours, folding once each hour. Refrigerate the dough overnight in the covered container.
Next day (about 5 hours before baking), take the dough out of the refrigerator and let it warm up and ferment 2 more hours at room temperature. Then divide the dough into three pieces (about 12 oz/340g) each. Shape the dough into rounds and then coat each dough ball in oil and allow it to rest for 30 minutes.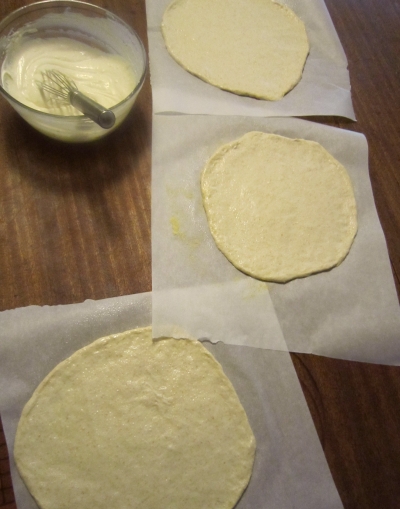 Then roll and/or stretch out the dough balls into flat circles about 11 – 12″ in diameter. Place dough on a cornmeal sprinkled baking parchment, spray dough with oil, then allow to proof for two more hours. When you have about one hour left of proofing the dough, turn on your oven to preheat with the baking stone situated at about  1/4 up from the bottom of the oven. Preheat to 550F degrees.
Also make up the cheesecake topping:
Cheesecake topping:
12 oz/340g cream cheese -very soft (you can soften in microwave)
3 oz/85g  sour cream or plain yogurt
.5 oz/14g vanilla extract
1 large egg (about 3.4 oz/96g)
1.5 oz/42g white sugar
Add all ingredients together in a mixing bowl and whisk together until smooth. Use 6 oz/ 170g for each pizza.
Experiments baking the pizzas:
The three ways I tried to bake the pizza are as follows:
Pizza # 1: I par-baked the first pizza for
3 minutes
, without any toppings. Then I removed the crust from the oven and spread on the cheesecake topping ( 6 oz/170g  of cheesecake topping per pizza) and fresh blueberries (this pizza had 4 oz/113g of blueberries). Next I returned the pizza to the oven directly on top of the stone and baked for another 5 minutes. This pizza had a thicker edge from par-baking but the berries baked up beautiful and the pizza was a hit with everyone.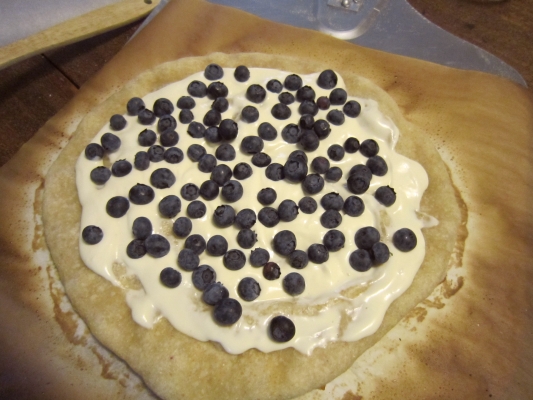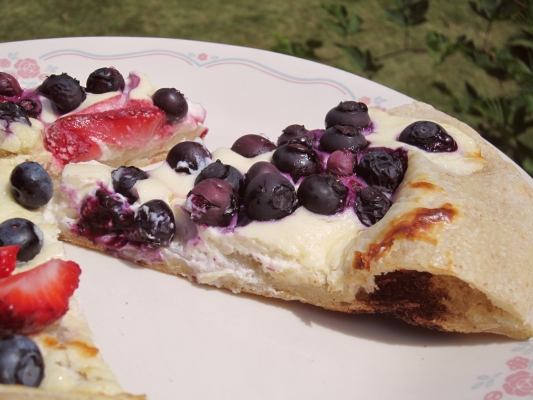 Pizza # 2: For the second pizza, I spread on the cheesecake topping and added fresh blueberries and sliced strawberries. I baked this pizza for 7 minutes at 550F degrees. This pizza was very good, however the baked strawberries looked a little funny, but still tasted great.  The crust came out the best on this pizza.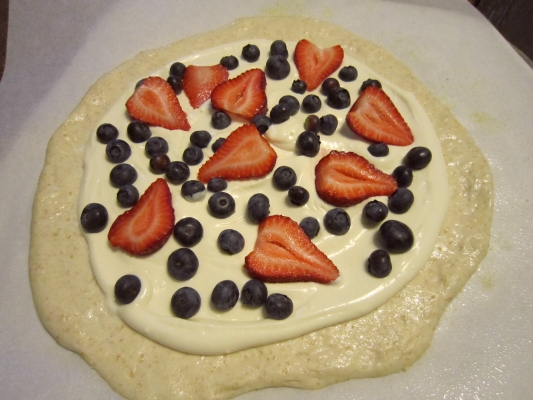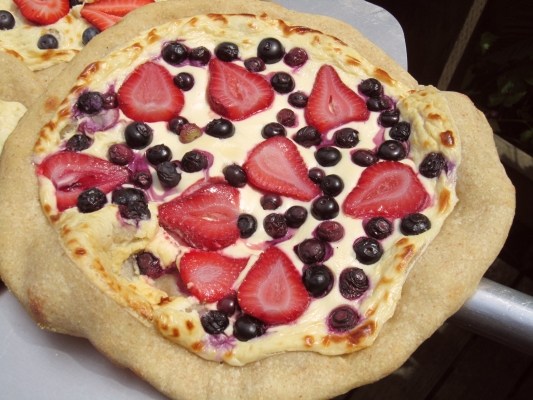 Pizza # 3: For the third pizza, I spread on the cheesecake topping and then baked the pizza for 7 minutes with no berries on top. I then removed the pizza when it was done and spread fresh blueberries and sliced strawberries over the still hot topping.  This pizza looked the best and tasted great, but the berries kept trying to run away…..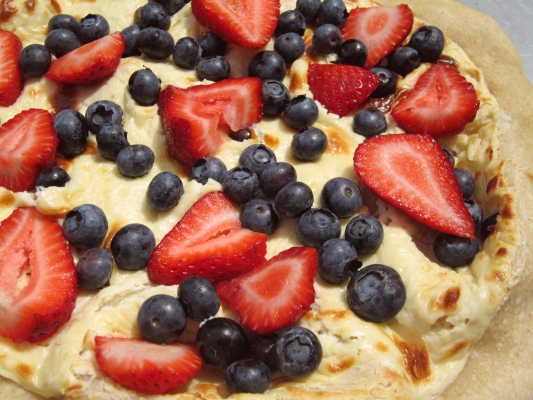 When I bake this dessert pizza next time, I will bake using pizza # 2 method and leave off the strawberries; blueberries are enough to satisfy anyone. Well maybe some added raspberries would be nice too…… or blackberries, or glaced peaches or……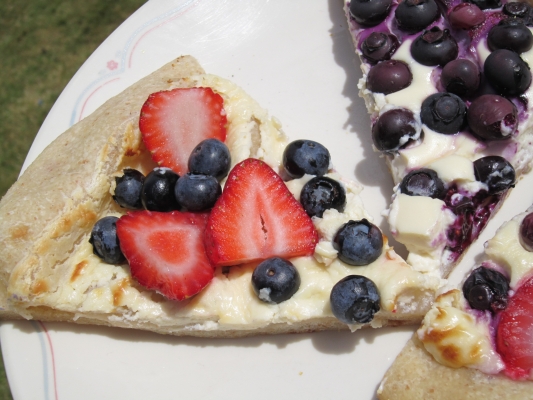 .
Have fun baking… I know I do.