Bits and Pieces
I have a few bits and pieces for you today. I have had a problem with my baking stone since I moved to Hawaii. I could only find a cheapie stone which kept breaking until I ended up doing jigsaw puzzles everytime I needed to bake:
.
Well I went to town looking for something to make a steam lid to fit on this small stone because I was using my roasting pan lid and it hung over the edges and did not hold in steam very well. I found a deep stainless bowl and bought a handle and ended up with this:
It works great! However, I stopped at tile place in Hilo called Pacific Island Floors and there was a terrific young lady there who likes to help out bakers. She was very knowledable about tile because geology was her major!
.
She sold me a travertine tile with a chip out of it for 3.71, yes only three dollars and 71 cents! I will have it cut down to fit my oven and make sure that it is cut long enough to fit a turkey roasting lid so I can bake batards again! I don't know if anyone has been savvy enought to notice that it has been a long while since I baked a batard or long loaf.
Here is what the travertine tile looked like before it was cut down:
.
It has been cut down and now my roasting lid will fit on my new stone. I am in the process of curing the stone by heating it slowly so I can use it. I will let you know how well travertine works as a baking stone or if it ends up being another jigsaw  puzzle.
.
Next:
.
I would highly recommend you check out a set of several posts on one of my favorite bread blogs at "Farine"
The posts I am talking about are written by MC about a baker named Gerard. It is fascinating reading, you won't be disappointed. Here are the links:
http://www.farine-mc.com/2009/11/meet-baker-gerard-rubaud.html
http://www.farine-mc.com/2010/01/building-levain-la-gerard-step-1.html
http://www.farine-mc.com/2010/01/building-levain-la-gerard-steps-2-3-and.html
http://www.farine-mc.com/2010/01/ask-baker-gerard-rubaud.html
and then her own beautiful rustic batard:
http://www.farine-mc.com/2010/01/rustic-batard.html
.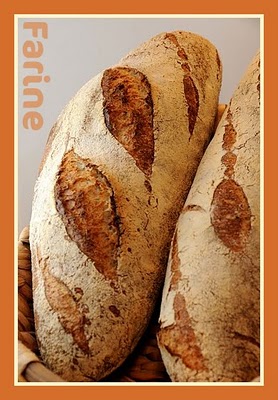 Thankyou so much for sharing with us MC and your own rustic batard loaves are so beautiful!