Cracked Wheat San Francisco Sour
I have been working with my San Francisco Starter and came up with a 65% hydration Sourdough with a small amount of cracked wheat thrown it for texture and eye appeal. I used a larger amount of starter than usual in the mix, to have the dough raise a little quicker. The dough was great to work with, sticky, yes, but bubbly and airy too. I started with:
SF starter, vigorous and at 166% hydration – 32 oz
tepid water- 20 oz
Sea salt – 1.2 oz
Oil- .8 oz
Cracked wheat – 1.5 – 3 oz (put in more or less to suit your taste, I used 1.5 oz)
Bread flour – 48 oz
Do the usual mix, autolyse and bulk ferment. I bulk fermented for seven hours, folding the dough several times while it fermented in a covered,flat retangular container. You can see in the pictures how the dough strengthened with the folding.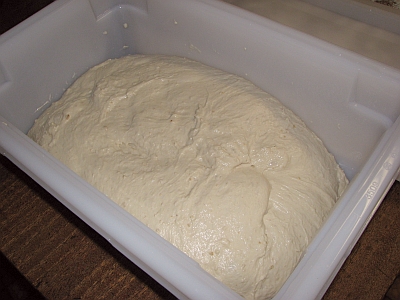 After bulk fermentation, shape loaves and then refrigerate overnight for 12 – 14 hours. Take out and warm up and proof your dough. Then bake when ready, using the roasting lid method of baking. This is how the dough looked as it was nearing baking time, with one loaf already in the oven:
The resulting bread is terrific with a wonderful crisp crust and holey crumb, just what you expect and hope for in a San Francisco loaf.