Hawaiian Sourdough….
I have been in Hawaii about a week now. My initial impressions are …awe. This place is so beautiful and varied. The picture above shows the main road near where we are living. We are living on a Macadamia Nut farm. Our family was offered a chance to run a Mac nut farm and we leapt at the chance. The farm is in a remote corner of the big island of Hawaii near Kapoho. The town of Kapoho was wiped out by a lava flow in the 1960's. The people living in much of this area are not on the grid. We don't have electricity and everyone on the island pretty much has catchment water, rain that is collected and stored for use. There is free drinking water available all over the island. For power we use solar with battery backup, a generator and propane, so the living isn't too rough. Most of the areas near us are on the grid, but I think the back roads to the farms are pretty rough and until they are paved, they probably won't be able to get on the grid. This seems to be a low year for the Mac farm. The former caretaker was ill for three years and passed away this spring. The farm has fallen into neglect and needs some work to get it up and producing well again.
Even though I have shut down my internet sourdough store for now, I am hoping to keep up my blog and experiments with sourdough baking. My first bake day was just to see how the flour performed, get used to my propane oven, and try to figure out fermentation in a warm climate. The results of the first bake: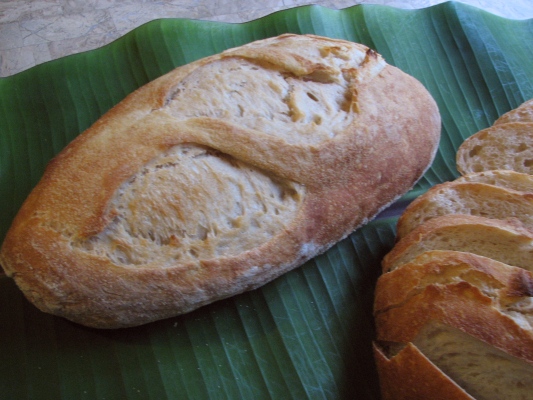 As you can see by the pictures of the bread(on a banana leaf), the flour needs some diastatic malt, less fermentation, or both. I decided for my second batch to go for the less fermentation. Instead of six hours bulk ferment, I did four hours. I then shaped the dough and put it into my propane refrigerator. I checked it at bedtime and it was ready to bake! Yikes! So I took it back out and reshaped the dough and put it back into the refrigerator. I need to ferment and then chill the dough down in bulk before shaping. The second batch came out better, but still showed signs of sugar lack… whitish cast, crackery, thickish crust and a certain smell like corn or popcorn. but I didn't get a picture as my hungry kids ate it up too quick. So my next batch will have less ferment time, probably by half, a cool down of the dough before shaping and diastatic malt added to the dough during mixing. The propane oven is doing a good job, although it is small, I can actually fit a roasting pan over the dough.
It is interesting to me that I am again going through what new sourdough bakers have to go through to get a great loaf of sourdough. I have to relearn the language of the dough. I am out of my usual element and it is strange that I can't just bake a terrific loaf of bread! There are so many unknowns, the flour, the water, the oven, the timing etc. Even when you follow someone else's instructions, there are so many things that will be different that you have to make adjustments for. I even have a new baking stone that is different. I know if I plug along however, it will all come together and I will be turning out my favorite sourdoughs again (maybe I will finally get that outdoor oven made… from lava rock!)
The scene from my backdoor:
There are Papaya trees in the foreground and Macadamia nut trees in the background. We also have banana trees, pineapple, and mountain apples in the side yard:
The scene from the side window: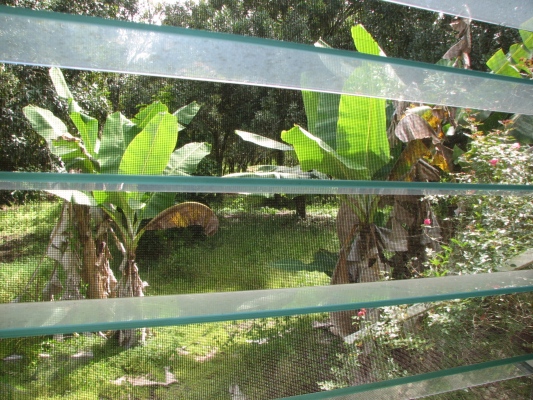 If there is interest in warm climate baking, I will continue to post my experiments and recipes. I also hope to be able to offer a Hawaiian sourdough starter in the future and even some Macadamia nuts right from this farm we are caring for.
You might have noticed that I put a donation button on my site and blog( I was't allowed to put a button on my blog, but instructions are on the top of the front page on the right). I can't get the internet here without going into town to an internet café. We won't make any income until after harvest in October. I hoped that you would help me get connected to the satellite internet and help me keep this blog and my site going. The set up fee and monthly fees will equal about 1000.00 dollars a year. I also have hosting fees on my site. Since I can't fund it from my store anymore, I am asking for donations to keep it going. I appreciate any contribution you can make.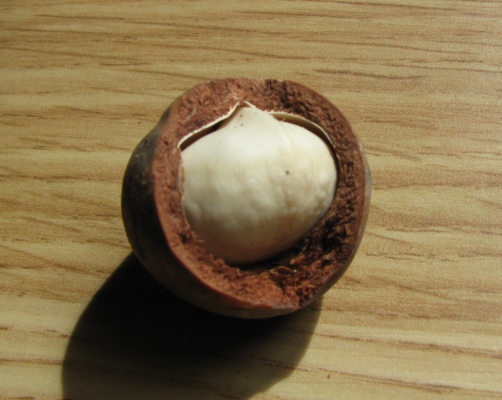 As far as the Macadamia nuts go…
The shells are so thick that they are very hard to crack and you need a hammer to get them open. Roll each nut in a piece of fabric first to keep the shell pieces from flying. I take the nuts outside and crack them open between two volcanic rocks. They make a great conversation piece if you leave them uncracked in a pretty bowl. Here is a picture of them in the different stages between a green Mac nut with a hull and an opened nut.
 A raw unroasted Mac nut tastes very much like a coconut. The Mac nuts are falling even now, but won't come in strong until around October at which time the machinery will be set up to dehull and crack the nuts.
I thought it would be fun to have a little contest on this post. So anyone who makes a comment will be entered into a drawing to win a pound of unshelled Macadamia nuts. There will be two winners chosen at random after a week. Aloha!