Jarlsberg Cheese Onion Bread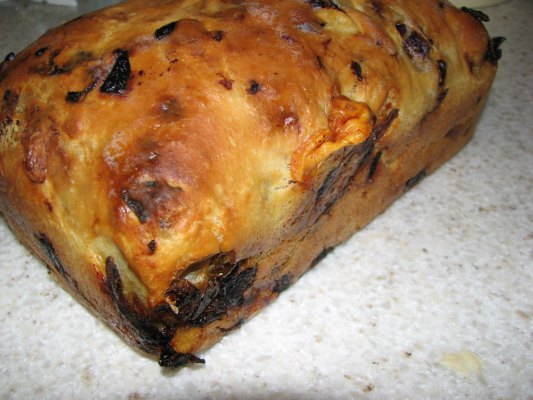 Due to a family crisis, I have ended up in California and am no longer in Hawaii. I am still getting plenty of sun, but it is cooler here. I have a minimum amount of baking equipment, so I am having to improvise and do with what I have.  It was three weeks of not being able to bake when I finally baked up some Jarlsberg  Cheese Onion Bread.
I did bring my kitchen scale , thank goodness! My sister in law, Michelle, who bakes terrific sourdough, shared some of the Italian starter with me that I had brought with me to California a year ago. So I was good to go…
I made up a preferment dough the night before by mixing together:
Starter @ 166% – 9 oz/652g
Water – 6 oz/170g
Bread flour – 8 oz/226g
Mix all of the above together, cover, and let set at room temperature overnight.
This will make a dough at 102% hydration weighing 1 lb 7 oz or 652g
Next morning:
To a large bowl or mixer add:
1lb 7oz/625g  (all) of the preferment
Water – 10 oz/283g
Soft Butter – 1 oz/28g
Bread flour – 1 lb 6 oz/623g
Salt – .6 oz/17g
Don't worry about the autolyse, with an overnight preferment, you can just add the salt to the dough when it is mixed up, because the preferment has been autolysing all night. Mix all of the ingredients together by hand in a large mixing bowl or mix on low for about 3 minutes if using a mixer.
This will make up about 3 lbs 8 oz of dough at 64.7% hydration.
After mixing the dough, allow it to bulk ferment at room temperature for about 4 hours, keep it covered, and fold the dough once an hour.
During the bulk ferment, chop about a pound of onions into medium chunks  and fry them until they are as brown as suits your taste, then cool. Chunk some Jarlsberg or whatever kind of cheese you like into 1/2 inch cubes. I used about 6-8 oz of cheese per loaf, but you can use as many onions and cheese chunks as you like.
After the dough has bulk fermented, divide the dough into two pieces.  Let it rest a few minutes and then stretch it out into a rectangle about the width of the pan and about 12 inches long, more or less, it doesn't have to be perfect.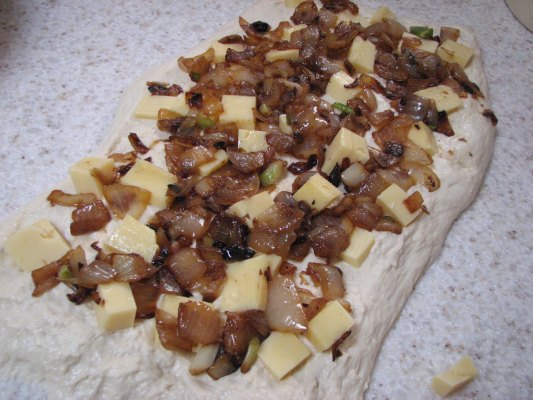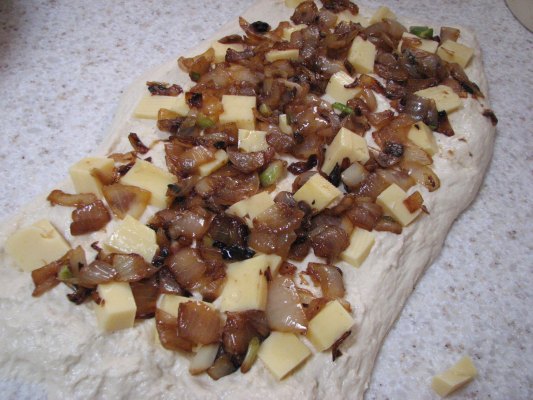 Add half the fried onions and the chunked cheese to the top of the dough. I used two different methods of making up the cheese onion bread. In one loaf, I took and worked the onions and cheese into the dough before shaping it. For the other loaf, I rolled the cheese and onion chunks into the loaf, like you would for a cinnamon loaf bread.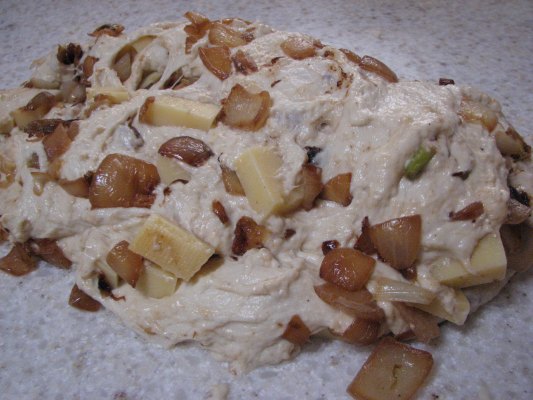 I experimented with the two styles and definately liked the mush the onions and cheese into the dough loaf better. It looked better and it came out nicer. The rolled loaf  did well except that part of rolled area inside the loaf, sunk down from the weight of the onions and cheese…still tasted great though!
After the dough was ready, I put it into the large loaf pans for baking soft pan loaves. Then I let it final proof for about two hours. When it was ready I baked both loaves together at 400@ for about 35 minutes. Let them cool! The onions are hot inside!
This bread smells and tastes so good you will have people wandering in to find out what is baking…