More Salt Fermented Sourdough
Seems like I can't get enough of playing with Salt Fermented Sourdough. For today's bake I decided to leave off the proofing cloths. I wanted to get a different look and I do not have my regular reed/willow baskets with me.
So I packed a regular wicker basket with rye flour and had fun with the pattern on the loaf. This bread will usually create great color and blisters. With the pattern though, it looks different. It's fun to play with crust variations.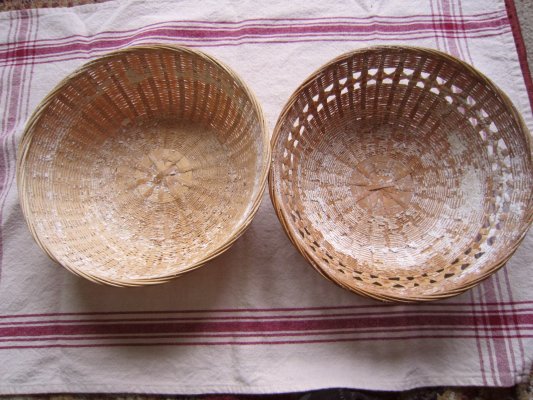 As with all sourdough ( except sweet dough),  you need your oven stone REALLY hot. I can't emphasize this enough.
I heat my 1/2 inch thick stone for at least an hour. You need a high transfer of heat to get a great oven spring, and that can only happen with a really hot stone. You also need to convert to using a roasting pan lid for a steamer.
That spraying the oven and using water in a pan at the bottom just doesn't do that trick. Here is a video to see how to use the roasting pan method:
[youtube=http://www.youtube.com/watch?v=-4PHUyRmpPc]
I can't tell you how much fun I have baking, it is truly an obsession for me. Here are the results of today's bake: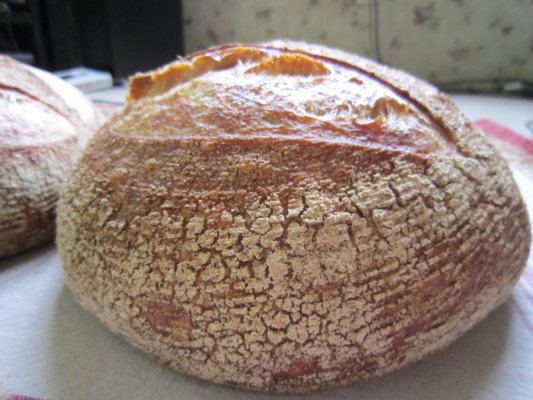 You won't believe the incredible flavor with this kind of bread. It is a variation on a Motherdough style sourdough.
Have fun baking everyone, I know I do!