Motherdough
As you know I have been working on Motherdough recipes for some time. I really like Motherdough. The dough is at about 67-70 % hydration. It is a basic white sourdough without anything except the starter, flour and water. I keep it in a bucket in the refrigerator. Here is what it looks like:
I have a "One Night Sponge Sourdough" recipe which will be posted soon. I make up the sponge and stir it up with my hand usually because when you add the motherdough, it is thick and the gluten is already well developed.
This is the sponge for the One Night Sourdough recipe:
This particular motherdough(the one in the bucket in the top picture)  has been fermenting weeks. I have used it at least once a week and refresh it when I use it. To refresh it I put about 2/3 cup of water and 1 cup of bread flour into a bowl, mix it up and then stir it into the motherdough.I will feed it more if I have used more or need more.
Anyway, the sponge for the recipe is left overnight in a cool area. Not too hard to find on this cool, wet Coast. The next morning I take it out :
As you can see it is nicely bubbly and ready for the rest of the flour and salt. It will proof for 3 – 4 hours and then I will make up loaves and proof again for about two hours. Then bake. Here are some pictures of different motherdough breads I have made:
The following two pictures are of the first Motherdough bread I made: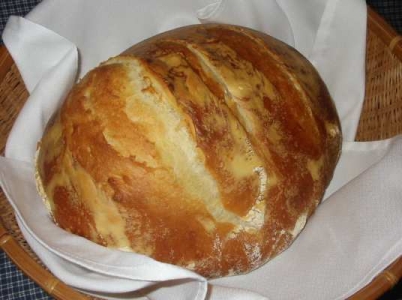 This is the Pane Teresa Bread:
This next picture is a picture of the One Night Sourdough recipe that I am working on:
Most of the unnamed photos are of the Pane Teresa Bread.
One thing you will notice is the beautiful coloring of the crust. I also made a Semolina bread with motherdough. It had a nice close crumb, somewhat dense and moist for making breakfast toast with jelly! :