Raisin Walnut Cranberry Sourdough Bread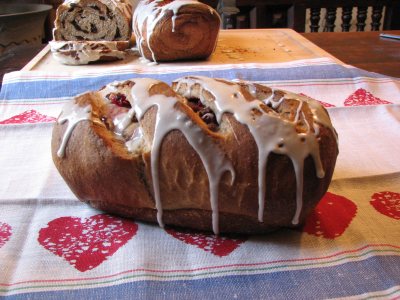 Aussie Bill came up with nice walnut raisin loaf.  I converted the recipe with a few tweaks of my own. So here is Raisin Walnut Cranberry Sourdough :
2 cups starter at 166% hydration – 18 oz (starter fed with flour and water using the same volume measurement).

1 & 1/4  cup water – 10 oz

1 cup milk (scalded, cooled) – 8 oz

2 large eggs – 3.4 oz

3 Tablespoons oil – 1.5 oz

3 Tablespoons honey 2.1 oz

1 Tablespoon salt – .7 oz

2 cups Whole Wheat flour – 8.4 oz

4 cups Bread flour – 18 oz

4 cups All Purpose flour – 16.8 oz

1 -1/2 Tablespoons Cinnamon or Mixed Pumpkin Pie spice
I put all of these ingredients together in my mixer and mixed just until incorporated(adjust water/flour if too dry or wet). Then I let the dough rest for 15 minutes (autolyse). I then mixed the dough for one more minute and let it bulk ferment for seven hours, the dough was very sluggish because of the spice in it, which tends to slow down the yeast. I then put the dough into the refrigerator overnight.
Next morning I took out the dough and let it warm up for four hours. I shaped the dough by dividing it into three pieces, and then rolling out each piece into a 20 x 8 inch rectangle. After I rolled out the dough , I spread evaporated milk over the surface and sprinkled a cinnamon sugar mixture over the whole surface ( I like the cinnamon mixture heavy on the cinnamon and light on the sugar). I then sprinkled walnuts and raisins on the first dough, I used only raisins on the second one,
and on the third one I put raisins, walnuts and chopped, frozen cranberries.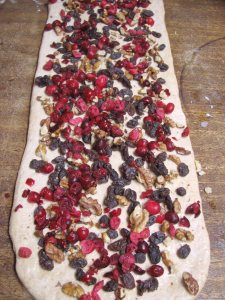 Then, roll up the dough…
Here are the three loaves ready to proof. They took two hours to proof. When ready, bake at 375 degrees  for about 40 – 45 minutes or until a toothpick inserted comes out clean(I baked all three together and did not use a baking stone). I had to put aluminum foil over them towards the end of the bake to keep them from getting too dark.
This recipe makes 5 lbs 7 oz of dough.Here are some pictures of the finished bread: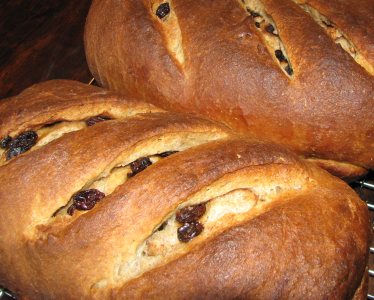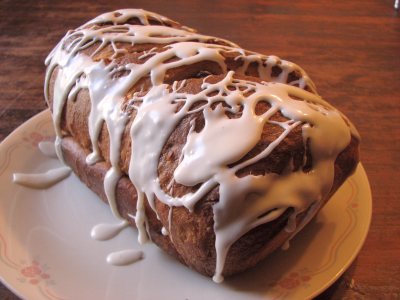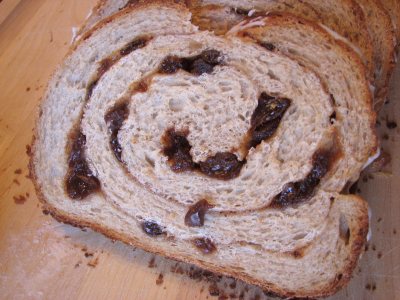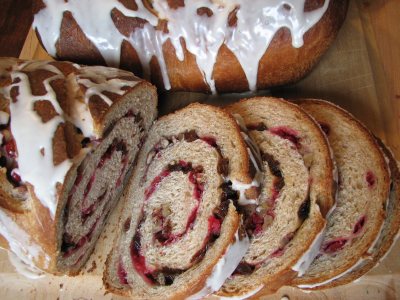 A lady named Kris was one of the winners on the recent forum contest. She very kindly sent me a beautiful Linen Proofing Cloth embellished with her own artwork. I am very pleased! Thankyou Kris! Here is a picture of my bread with her cloth and business card. If you are interested in buying some of these cloths for a gift, give her a call, her number is on the card below (707-839-8379) or email her at : still_kris2004″at"yahoo.com.  A better picture of her cloth is at the beginning of this blog entry.
This bread is so delicious, my daughter described it as "Killer Good". However, you haven't tasted it until you toast a thick slice and slather it with real butter…..MMMMMMM! All three loaves were almost gone the first day. I hid a piece for myself to have with coffee this morning!