Review for Brod and Taylor Dough Proofer
I've been working off and on with my Brod and Taylor dough proofer as I put together my courses. I've added the new optional second shelf to extend my use of the proofer. I've used this proofer since it first came out in  and was actually a beta tester for the company. I jumped right onboard and have never looked back. For the purpose of testing with sourdough baking, it is invaluable to me. In bakeries they have temperature control but in the home kitchen it is often difficult to obtain unless you are super creative.
.
I've given you some alternative ideas in the past for jerry rigging yourself a proofer(which I new see spread all over the internet). I've used my microwave with a hot cup of water in it, my dishwasher set to dry with some water thown in the bottom for humidity and the top of a slow cooker. Other ideas are to use a coffee mug warmer in a styrofoam box, a heating pad or a hot water bottle in a ice chest/cooler.
.
However, none of these ideas really work if you are testing outcomes because they are not reliable and don't keep an even heat. The Brod and Taylor will not cool down the temperature if you are in a hot environment, so it is not a temperature controller unit, it will only keep the dough warmer than your room temperature.
For those of you considering a purchase, here is a video showing you how it is put together and how it works:
.
.
My first review of the Brod and Taylor Proofer was in 2011 when they first came out and my post about it is here:
http://www.northwestsourdough.com/?p=2770
.
I've branched out with my proofer and make Greek Yogurt using it as the temperature control, that way I am able to make a large batch of around two quarts at time using a gallon of milk. It is a lot of fun. I also have a video on how to make the Greek yogurt here:
.
.
Click on the proofer for purchase:
Optional second shelf: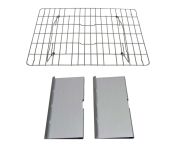 So there you have it, if you are interested in purchasing a Brod & Taylor Proofer, this might help you to decide!
Happy Baking!!
---
If you enjoy sourdough baking, you might want to join my new course. it is self paced and you will have access for your lifetime. Click here for a discount link:Bake Real Artisan Sourdough Bread like a Professional
See course intro video below:
If you have a Brod and Taylor Proofer, please leave a comment and let everyone know how you like it.