Salt Sourdough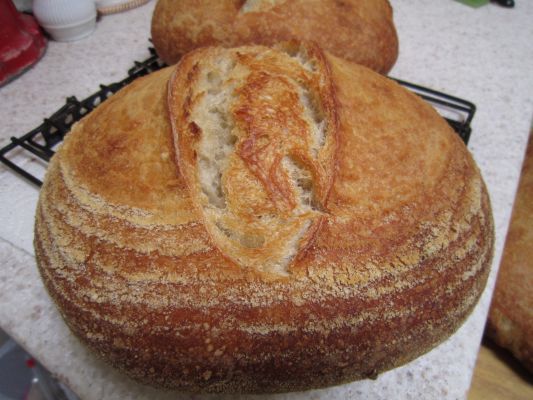 Yea, I am at it again. I found out that adding more diastatic malt to this kind of dough is a good thing. The salt can initially make the this kind of dough somewhat tough, the crust too thick and crunchy. It can be difficult to obtain a good color to the crust.
So I more than doubled the amount of diastatic malt in the dough. I also made up the first stage dough and then let it ferment five days with the extra diastatic malt. Then I made it into the final stage dough and added even more diastatic malt. I knew I was playing with fire here, because diastatic malt can make the dough break down and turn into a sticky mess with a resulting gummy crumb.
The salt inhibits the protease enzyme but it also inhibits fermentation and the conversion of sugars in the dough (amylase enzyme activity). So I thought that adding more diastatic malt would overcome that. It made a terrific loaf with a deep wonderful flavor and a nice sour. The first stage of dough had an interesting texture, it was broken down a bit, but still had the stretch of gluten in it (this was five days after mixing):
I used this dough to make the next stage dough. The first stage dough was almost 50% of the final dough weight. Both doughs were 60% hydration. I did this hydration because I knew once the initial stage dough was broken down from fermentation, it would make the final dough "feel" like a higher hydration dough. It did, here is the  last stage dough:
You could tell while handling the dough that it was more fragile than usual so I handled it gently. It handled very well. The dough was shaped and then refrigerated overnight. I baked the next morning using my regular method of roasting lid and a long preheated oven with stone. Here are the results: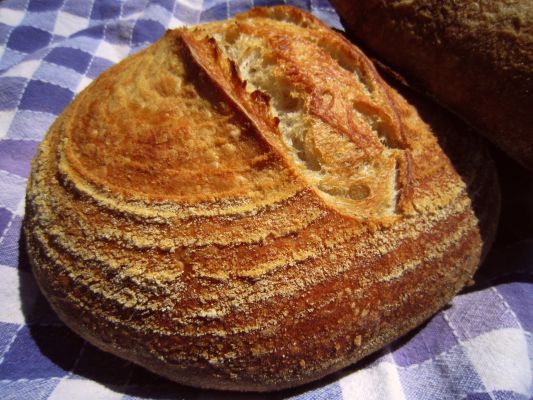 I have had several failures while working on this kind of dough and adjusting the diastatic malt amounts. This batch was an exciting success and tastes terrific! Happy Baking everyone!