Sourdough Ableskivers !
I made up some sourdough waffle batter using the recipe available on my website at: http://www.northwestsourdough.com/recipes.html
I didn't change a thing, just made it up as it is. I decided to bring out my Ableskiver pan and make up some Ableskivers. They are such a nice treat instead of the usual pancakes or waffles. If you ever find a good cast iron Ableskiver pan…buy it! Mine is old and well seasoned, the bottom has some surface rust which won't come off unless I get a metal scrubber in there, which I won't as it will be back in no time in my climate. Here is what a good Ableskiver pan looks like:
It has seven little bowls for filling with batter. The pan has to be hot like a griddle where a drop of water sizzles and jumps. Grease the little bowls. Then pour the batter to the top and wait until the Ableskiver sets a little.
Then you take a skinny sharp pointed knife or a stainless knitting needle and shove it into the batter to the bottom of the little bowl, you use the knife and pull the Ableskiver around so that it is setting halfway up and the batter in the middle pours out and starts cooking on the bottom of the bowl.
As you continue to turn the Ableskiver while it is cooking, you create a ball with a hollow middle.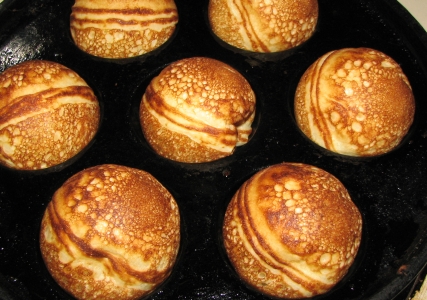 This is just right for shoving something into it, like blueberry preserves, blackberry, jams, dried fruit, etc. Then you sprinkle with powdered sugar and …..yummmmm!! Down them with a hot cup of coffee for a great breakfast treat. In case you are wondering, the Ableskivers pictured below are filled with Blackberry preserves made from berries gathered right around here. These are terrific!
I found a source for an Aebleskiver/Abelskiver/?  pan that looks good at:
Danish Aebleskiver Pan
Happy Baking Everyone!
Teresa