Trying out Nancy's basic
I brought out my Nancy Silverton's book, Breads from La Brea Bakery, and decided to give her Basic White bread recipe a go. It has been a while since I first tried that recipe and one of the first sourdough recipes I had used. I have been working with higher hydration doughs than her basic recipe, so it was a stretch for me to keep adding the flour to the mix. I also had to mix longer and add a significant amount more salt.
Because I didn't have the raw wheat germ that her recipe calls for, I substituted whole wheat flour, so actually I didn't do full justice to her recipe. I am planning to get some raw wheat germ to do the recipe again. Here are the results:
I made up 1& 1/2 amounts of the recipe and came out with almost six pounds of flour.
The baguettes weighed 1 lb 5 oz each. The boule was approximately 2 lbs.
I ended up with 3 baguette style loaves and one boule. Here are two of the baguettes:
The other loaf was already in the oven after a two hour proof. Here are all three loaves done: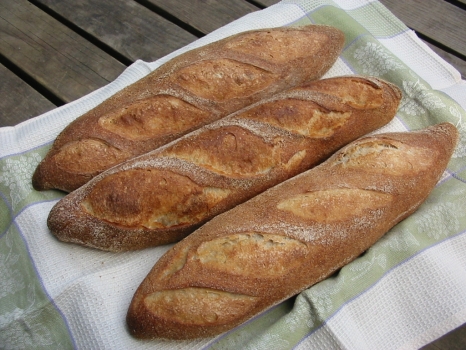 The oven was just too hot per her directions, so I turned it down a little for each loaf and didn't leave it in as long as the directions. I think my oven runs too hot.The first loaf I baked is the middle one, it is the darkest, then the next loaf is on the top and the last loaf is on the bottom.
Here is the boule: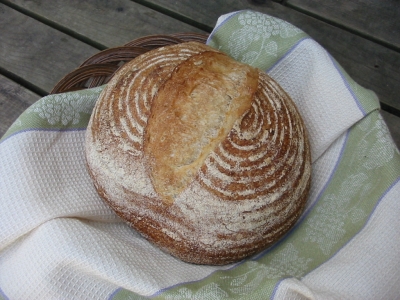 The boule came out pretty good. I am not as good as I should be at forming baguettes so I got some "holes big enough for a mouse to hide" which means I need more practice forming my baguettes. Here is the crumb of one of the baguettes: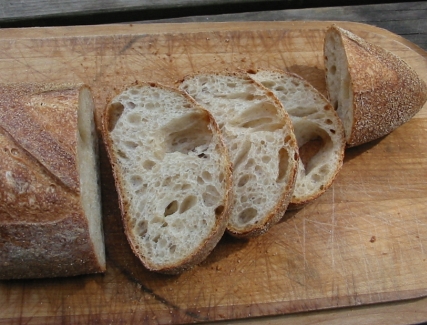 This is a nice recipe and is used as a basic for making other breads in the book. Even though I thought the salt was going to be excessive, it wasn't. The bread tastes great. I feel the crust was too thick, possibly from my oven heat being too high. The crumb has a nice texture with the cells being nicely gelatinized. You can see the mouse holes.
Now, back to learning how to form baguettes!Wish I could watch Nancy form her loaves!