Blistery, Billowy, Salt Fermented Sourdough
I told you I was happy to be back home! I did not have such success with my loaves at the "other" houses. I believe in large part it may be because: I have an old used oven that works great for baking, I have a dedicated refrigerator set at 46F degrees for fermentation, I have my Fibrament baking stone, I finally got some Morebread flour, and well…. it's my domain!
I have gone back to my favorite interest, "Salt Fermented Sourdough." I have a board set up just for this experimentation on my Sourdough Forum. It was password protected, but since the release of my book, "Discovering Sourdough," It has been opened to all members of the forum.
I have decided to take a new twist on this recipe. I not only added aged salt fermented starter  to the dough, I also added freshly bubbly ripe starter as well. I made up the dough and then after it fermented, I shaped three loaves and refrigerated them overnight in my dedicated fridge. So this wasn't your long fermented dough, I didn't expect them to be as sour as the longer fermented dough, but, well…. these loaves are fantastic! They almost look like two pound loaves(they were one pound and a few ounces each), they are light, airy and the crust is shattery. I couldn't even remove the loaf from the oven without shattering the blisters.
First you need to make the "seed starter" you can find it here: Salt Fermented Sourdough
Please disregard the diastatic malt in the recipe and only make the seed starter, do not follow the rest of the direction for the Salt Fermented Sourdough, come back here and continue on…….
Follow the directions to make the seed starter(do not use the diastatic malt), using either the 166% starter formula or the 100% one. I used the 100% starter formula. I allowed the seed starter to set in my dedicated (46F degree) refrigerator for five days. It is that time of year where maybe you could find a place that is around that temperature. Maybe an enclosed outside porch, a garage or pantry, If you can get it up above 40F degrees but below 50, that would be perfect.
On day five at 2:00 pm I mixed together this dough:
Early in the morning, I fed my regular sourdough starter @ 100% hydration so it would be bubbly and active by the afternoon. Then using a dough trough or a mixer on low speed mix together:
Blistery Salt Sourdough:
In a dough trough mix together:
Water – 18 oz/510g
Bread flour – 20 oz/567g
Mix the water and flour together and autolyse for 30 minutes. Then add:
Seed Dough 5-6 days old @ 65.4% hydration- 12 oz/340g (see link for instructions)
Bubbly active regular starter @ 100% hydration – 10 oz/283g
Salt – .7 oz/19g
Bread flour – 10 oz/
Stir all ingredients together and then allow the dough to ferment for six hours. Do a dough folding once each hour or at least four times altogether.
Then divide the dough and shape. See secret below for getting an airy bubbly crumb.
Place the dough into bannetons or floured, lined baskets, then cover with plastic wrap and let set overnight in your refrigerator.
Next morning take out your loaves one by one staggering them by about 30 minutes. When your dough is proofed, slash, spray with water and bake in a preheated oven using and oven stone and the roasting pan method of baking except keep the oven at 450 throughout the bake. Bake at 450 degrees for 20 minutes with a roasting lid on, then remove the lid and bake for another 10-15 minutes to brown.
Salt seed dough at five days old: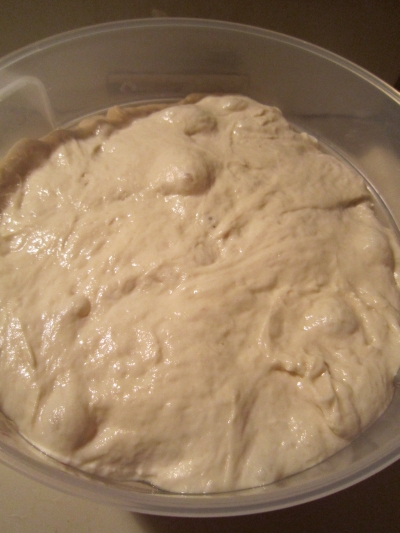 The seed dough is spongy:
After mixing ingredients together:
When the dough is done fermenting, after six hours and several folds, it will look like this:
Dough shaped and in a lined basket: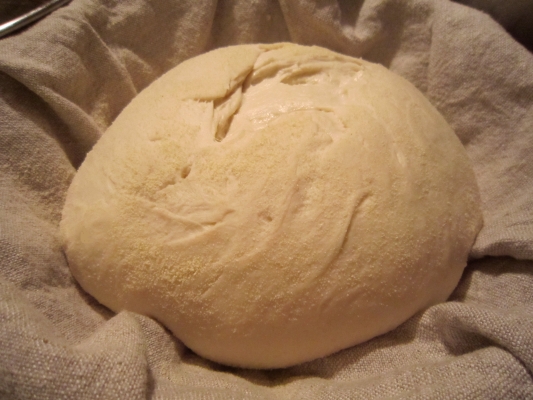 Dough scored and ready to bake. I just placed it on the baking stone, next I will spray the dough with water and cover it with a hot roasting lid.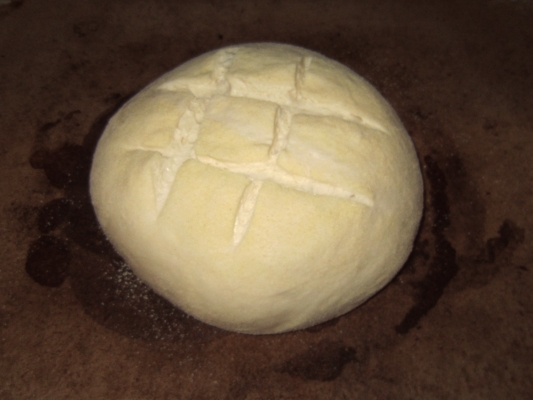 pictures of the outcome: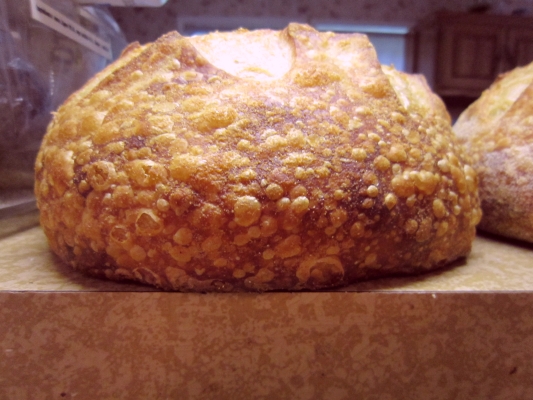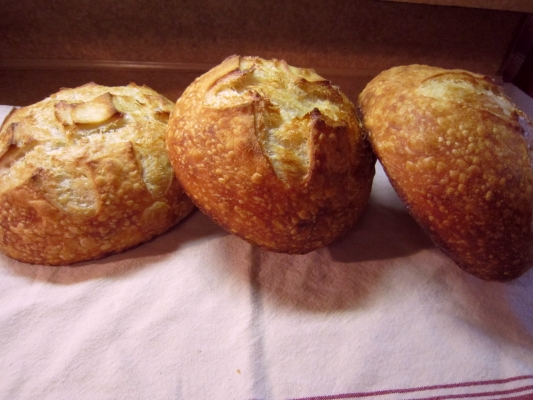 And the crumb: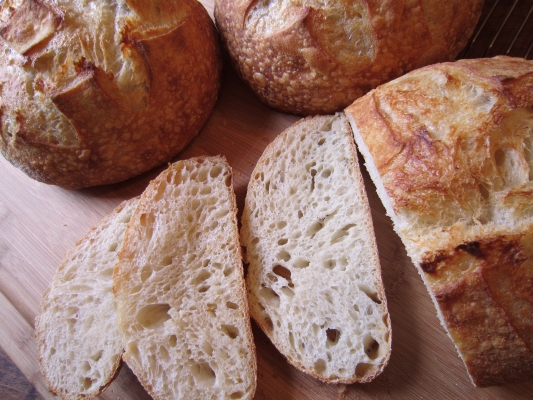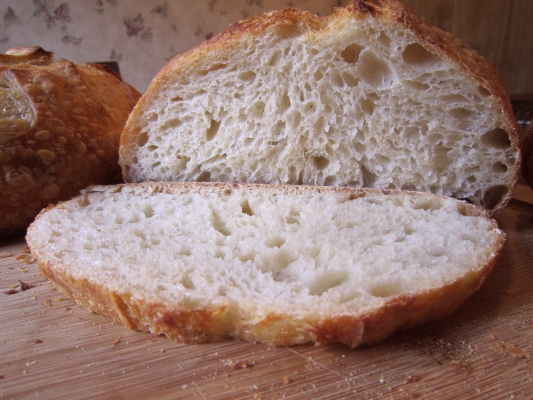 Airy, billowy, soft, custardy with moistness, this crumb is wonderful. I have a secret to obtaining the open holy structure. It is this:
After shaping your dough, allow the loaves to set at room temperature for about one hour. Then do a final shaping, shaping it gently as to not deflate all of the bubbles but pressing enough to degas somewhat.  Pinch to pop any large bubbles which form just under the crust. Then refrigerate the dough.
Your family will not believe their eyes or their mouths when you produce this bread from your oven, give it a go……..
….and have fun!
Me with my 1lb 4 oz loaves: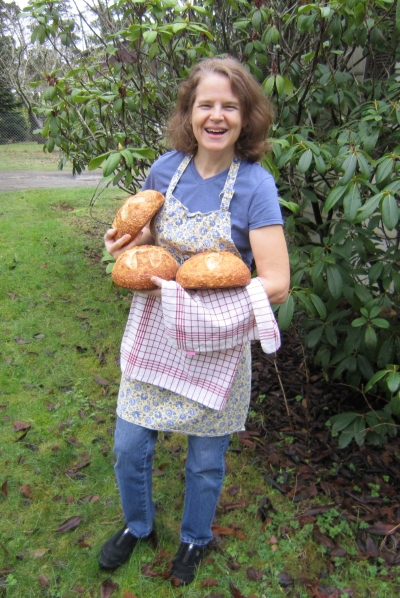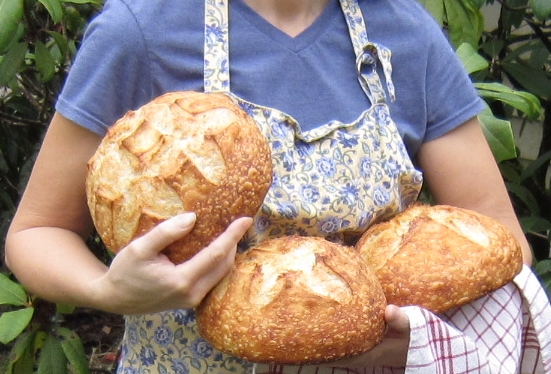 Happy Baking!