Sourdough Biscuits w/Sour Cream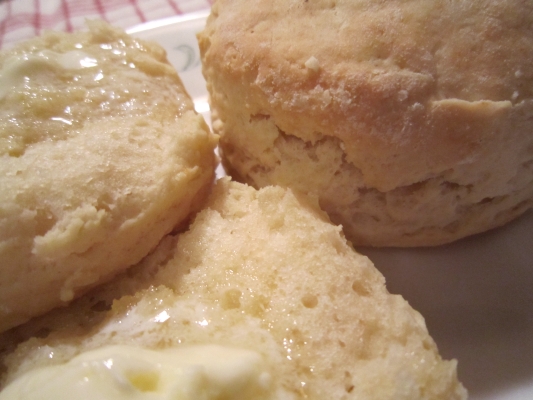 Sourdough Biscuits are so good! As many of you know, I have been primarily working on new forumulas (recipes) using my sourdough starter at 100% hydration. 100% hydration means that when you feed your starter, you always use equal weight of water and flour.
This morning I decided to bake up some Sourdough Biscuits. I already had the oven piping hot because I was baking sourdough bread as well.
Teresa's Sourdough Biscuits:
Sourdough Starter @ 100% hydration – 6 0z
Water – 4 oz
Canned evaporated milk – 4 oz
Sour Cream – 2 oz
Melted Butter- 2 oz
Sugar – .2 oz (1 teaspoon)
Stir all the above ingredients in a medium size mixing bowl. Set aside and then mix these ingredients together in another small to medium sized mixing bowl:
All Purpose flour – 11 oz
Baking Powder – .3 oz (2 teaspoons)
Baking Soda – .1 oz (1/2 teaspoon)
Salt – .2 oz (1 teaspoon)
After you stir the dry ingredients together, add them all at once to the wet ingredients. Stir together gently with a fork until the ingredients are pretty well incorporated, but do not mix too much.  Scrape out your sticky dough onto a well floured surface.
Sprinkle some flour on top of the sticky dough, fold the mass over a couple of times and pat into a circle. Then roll it out a bit more with a rolling pin: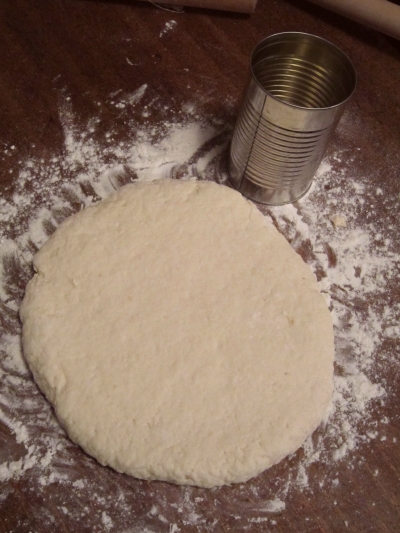 There isn't much dough here, only enough for about nine nice sized biscuits. I like to use a regular sized can to cut out my biscuits, I can never seem to keep a biscuit cutter from running away, but no one seems to bother my can.
You need to keep flouring the edge of the can and the edges of the biscuits will be a bit ragged as the dough is still very soft and sticky inside. If it is soft and sicky, it will make great fluffy tender biscuits. You just need to keep flour on both surfaces to make sure it doesn't stick. Cut out about nine biscuits, place on an oiled or greased sheet pan and then bake at 450F degrees for about 18-20 minutes or until flaky inside if you rip one open. (I had my baking stone in while also baking bread, if you bake these without a stone, go ahead and lower the temperature to 425 degrees, so the bottoms don't burn) They do not get a really dark brown, just a light tan color.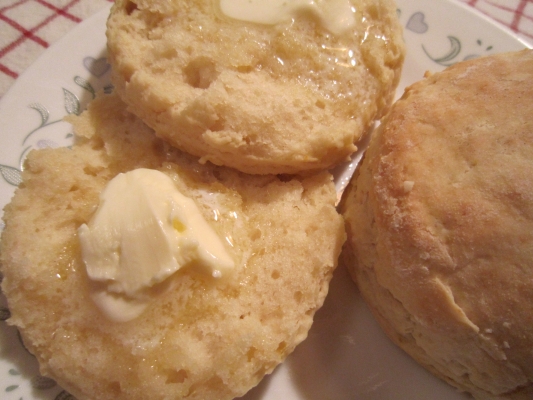 Serve hot with plenty of butter, jam, honey, etc……….enjoy!