Griddled Sourdough English Muffins
I have had an interesting week. I received my CPR certification yesterday. It was an interesting class to attend. We also received lunch and a nice first aid kit. This class was sponsored by the Shoalwater Bay Tribe. They are very helpful and active in our local community.  We are lucky to have them as neighbors here in Tokeland.
We have had icy roads, wind, rain, hail, sun and whatever else you can think of except snow, thank goodness (I better not say that too loud). However, if I cannot fly on my bike, I can always mix up a batch of something fun with my sourdough starter. I had been feeding my starter and building it up for several days because I wanted to have it ready when the baking bug bit… never much of a wait for me!
On Monday I finally had some time to make something so I decided to whip up a batch of English Muffins. What made me decide to make English muffins is that my son wanted some English Muffins when I was at the store last and …. yikes.. I bought some!
Yep, it was a mistake. Once you are used to home baked bread, you just cannot go back to the store bought stuff. I toasted up the mistake, tried it and right then and there decided I was making some of my own English muffins.
Sourdough English Muffins with Whole Wheat
In your mixing bowl combine together:
16 oz/453g -Vigorous sourdough starter @ 100% hydration
6 oz/170g – water
2 oz/56g – canned milk (or whole fat milk scalded and cooled)
.5 oz/14g – salt
.8 oz/22g – malt syrup (or honey)
4 oz/113g – whole wheat flour
10 oz/283g – all purpose flour
Stir these ingredients with a strong spoon or by hand until well incorporated. Allow the dough to set in it's container, covered, in a sink of bath temperature water for two hours. Then take the dough out of the warm water and allow it to set at room temperature for another two hours.  Stir down the dough once each hour for a total of 3- 4 stirs/folds.
This formula made 14 English muffins with 2 lbs 7 oz/1125g of dough at 73% hydration. If you try substituting more whole wheat flour than called for, you will need a bit more water, and expect your English muffins to be heavier.
When your four hour ferment is done, sprinkle your working surface heavily with whole wheat flour and pour out your sticky dough onto the floured surface. Sprinkle more flour on top of the dough and then gently roll the dough out to about a 1/2 inch thickness. Do not knead in any flour, just keep the top and bottom of the dough covered in flour and roll it out.
Using a large band from a quart mason jar, cut your English muffins out and place on a baking sheet or linen cloth which has been sprinkled well with more whole wheat flour.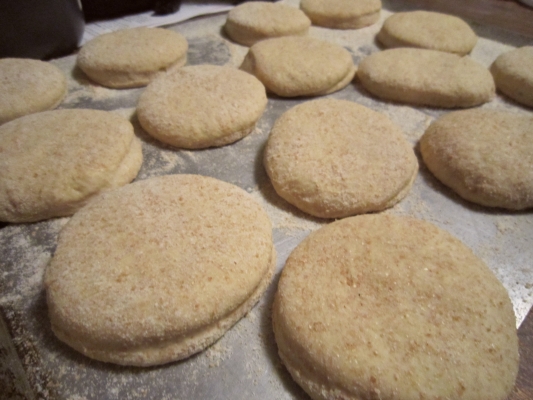 Now allow your muffins to final proof for about two hours. When they are ready to cook, heat your griddle to 325 degrees. Then place your muffins on the griddle (I sprayed the griddle surface once with baking spray oil) and leave them setting on one side for about five minutes.
After five minutes, turn them over and griddle the other side. The English muffins should be done at this point but check them during griddling and see if they are getting dark too quickly, adjust the temperature if they are, or if they seem to be too pale, turn up the heat a little.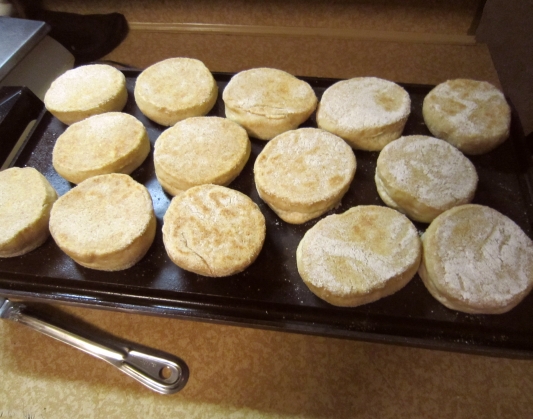 After they seem done, open one and make sure he inside looks done, they will be moist and soft, but there should be no sticky dough left in the middle.  To open an English muffin, I cut around the outside just enough to score, then I take a fork and pull it apart by working around the outside with the fork, pulling the muffin apart. This helps to expose the nooks and crannies.  Butter and eat while hot….. so dang good!!!!!!!!!!!mmmmmmmmmmm!  If you have not tried homemade English muffins, you do not know what you are missing!!
.
Edited: Special "Oldie but Goodie" Discount for my online course: Sourdough Baking 101 (only 10.00 this weekend).
.