Pane di Amore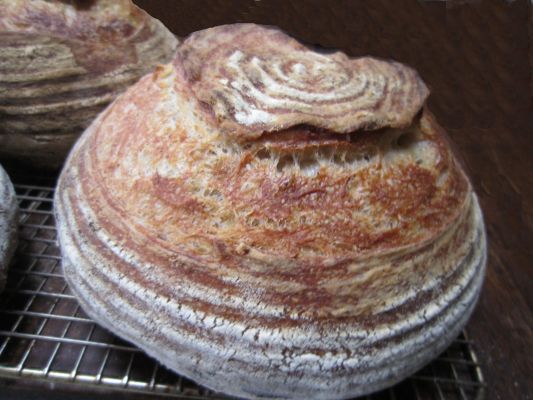 The Bread of Love and Friendship
This is an easy sourdough with a little bit of milk and potatoes. I used whole wheat sourdough starter but you can use a white starter and substitute about 6 oz of whole grain flour for bread flour to have it come out similar.
Pane di Amore
This dough makes 1950 g of dough and I made two loaves at 700g and a smaller loaf at 500 g — and don't write and tell me that it doesn't compute because if you are a baker you already know that dealing with sticky dough, you will waste some dough on the container and on your hands every time you fold. 🙂  The dough is approximately 67% hydration. I had this dough mixed and ready to bulk ferment at 3:00 pm. Add together:
200 g of whole wheat starter fed in the morning
550 g water
80 g milk ( I use canned milk, it is sterile and you don't have to heat it and it is creamier because it is concentrated)
20 g sugar (raw, brown, it doesn't matter)
60 g  rye flour
100 g  mashed potatoes (have it prepared early in the day)
600 g of  flour (bread and all purpose flour,about a 60/40 mix)
Mix the above ingredients together and then allow the mix to autolyse (rest) at room temperature for  two hours (keep the dough covered). After autolyse is done, add:
320 g bread flour mixed with 20 g of salt (mixing the flour and salt before adding helps to distribute the salt more evenly).
Mix well.
Fold this dough three times over the course of four hours (it should be around 9:00 pm if you started at 3:00 pm).
Shape the dough. I shaped two larger loaves and one small loaf. You could also shape two large loaves etc.
Place the shaped dough into bannetons, cover in plastic wrap and refrigerate overnight.
In the morning take your loaves out staggered by 30 minutes, take off the plastic wrap and allow the dough to proof until ready. My dough about three hours.
I preheated the oven(to 500F) after the dough was proofing about two hours and I used the microwave over my oven, once it got warmed up from the oven being on, to keep the dough toasty warm. If you don't have a warm place to keep your dough, it could take longer for the dough to proof. Knowing when the dough is done proofing and when to turn the oven on are skills that even advanced bakers mess up on sometimes.
Slash your first loaf  with a heart on the top, when it is done proofing and slide it onto the stone.
Give it a spray of water and then cover it with a roasting pan lid, upside down stainless steel bowl, or whatever you have for holding in the steam (you should preheat it just before using it ).
Turn the oven down to 450F.
Bake for 20 minutes and then carefully remove the lid (place it on top of the oven to have handy for the next loaf and out of reach of little fingers).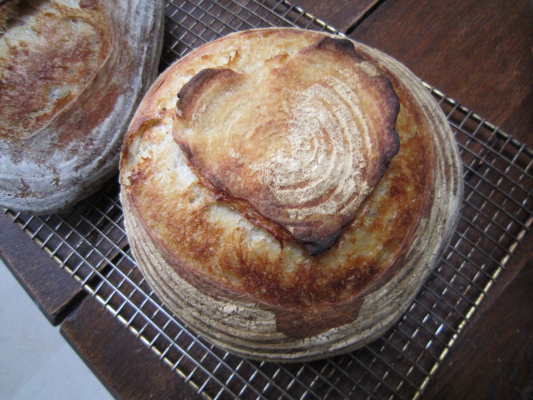 Finish baking the loaf for around 10 – 15 more minutes, turning it once after around 5 minutes. Your dough may take longer to bake. Just make sure it is nice and brown and the internal temperature is around 200 – 210F and the loaf sounds hollow when you tap it on the bottom.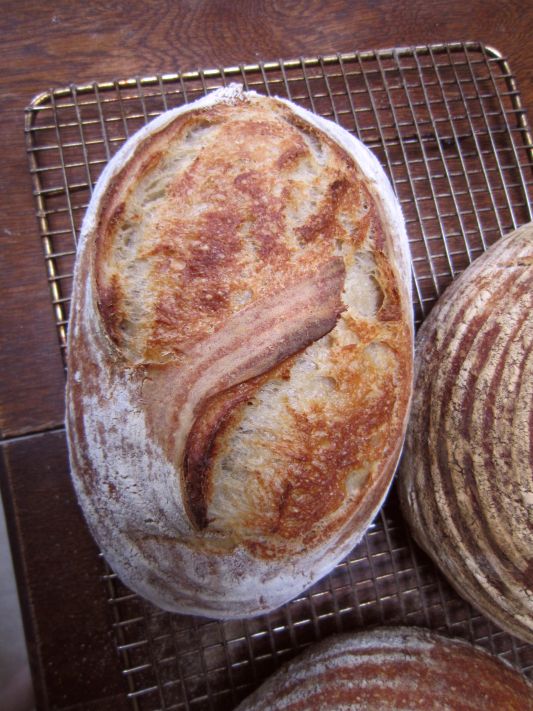 Place your hot bread on a cooling grate. Turn your oven back up to 500F , place the roasting lid back in the oven and wait another 5 – 10 minutes for it to heat. Then repeat the process for the other loaves. Pane di Amore should really be shared with your loved ones and/or a friend. So make enough to share, you will be loved in return!
The crumb from the smaller loaf was more open: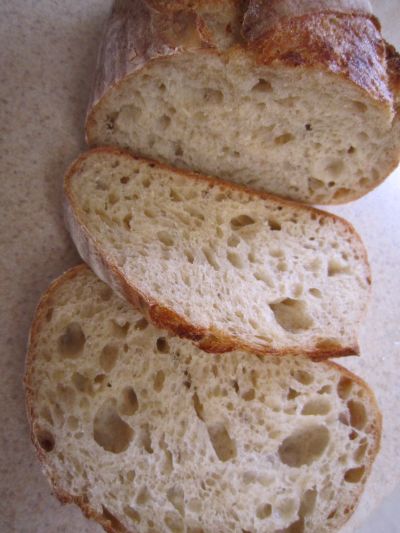 The crumb from the larger loaves was a bit more closed: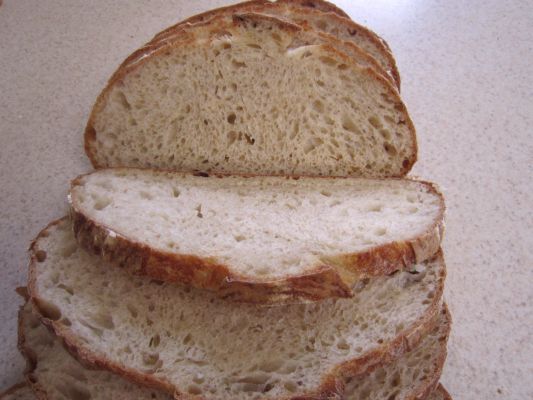 To bread, love and friendship!