Quick and Easy Blueberry Wedges
I love berries of all sorts, but I especially love blueberries. I have a stash of them in my freezer and several boxes of fresh blueberries in my refrigerator. So I thought I would make up a quick snacking kind of dessert for dinner.
Easy Sourdough Blueberry Wedges
4 oz/113 g- evaporated milk (half cup)
2 oz/56 g -melted butter (half stick of butter)
2.5 oz/73 g – sugar (about 1/3 cup)
2 large eggs
1 teaspoon/6g vanilla extract
7 oz/198 g – sourdough starter @ 100% hydration
1/4 teaspoon/ 2 g –  salt
Place all of the above ingredients in a mixing bowl and beat with a whip until incorporated.
Then pour the mixture into an oiled 9″ baking dish and add over the top:
10 oz/ 284g – blueberries or any other fruit you wish to use (raspberries, sliced peaches, chopped apples and raisins etc) (about 1.5 cups)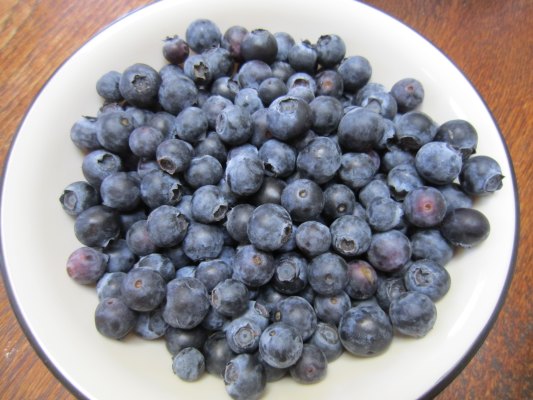 Sprinkle the top with sugar and cinnamon:
Bake at 400F in a preheated oven for 30 – 40 minutes. Cool a bit. Serve with whipped cream or ice cream while still warm or sprinkle a little powdered sugar on top.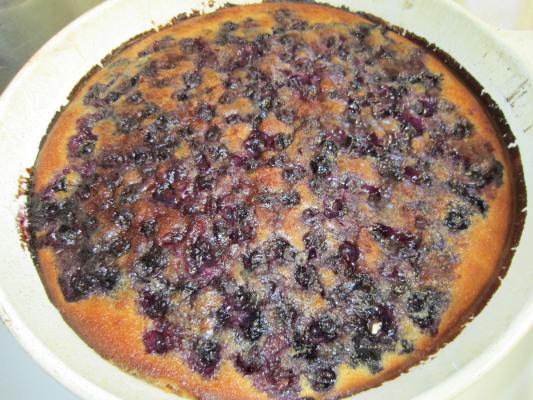 This recipe makes nice thin wedges, if you wish them to be thicker, use a smaller baking dish and bake a little longer.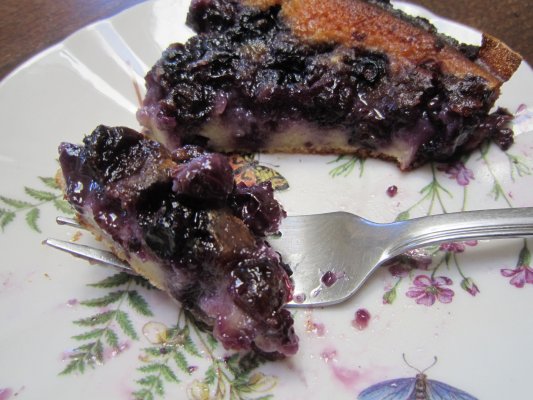 This dish would also be good with crumbs on top, sprinkled on halfway through the baking time so they don't drown in the thin batter.
Don't forget a cold scoop of vanilla ice cream!
Happy snacking!