The Southernmost Bakery in the USA
I made another trip around the southern point of the big island in Hawaii this last weekend. I made it a point to stop at the Punalu'u Bakeshop in Na'alehu. This was recommended to me by my big brother who visited the island last year before I came. He said that this bakery made the best coconut turnovers he had ever tasted.
So I bought some, and I bought some Malasadas, and some…
of their Macadamia nut sweet bread as well as their Traditional sweet bread and their Taro sweetbread. They are a small bakery and they have a giftshop. They are set up very nicely for their customer's convenience, with outdoor tables and restrooms. There is no sourdough baking here but some of the other goodies they had out in the display racks included:
.
The Malasadas are little round filled doughnuts:
.
.
.
.
Their sweet breads are what Hawaiians traditionally like. One of the natives told me that a few years ago a bakery that specialized in Artisan breads opened in Hilo, but they had to shut their doors for lack of interest. Hawaiians don't seem to like the sourdough and artisan breads as much as they like their sweet breads which are sold everywhere. I guess I won't open a bakery here!
.
Here are some of the sweet breads the Punalu'u Bakery had to offer:
.
Macadamia Nut Bread:
.
.
Traditionally Flavored Sweetbread (pineapple)
.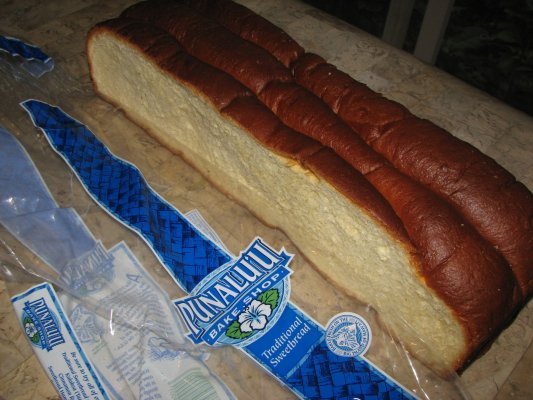 .
.
Taro flavored sweet bread which is purple: (If you don't know what taro root is, check it out here: Taro Root)
.
.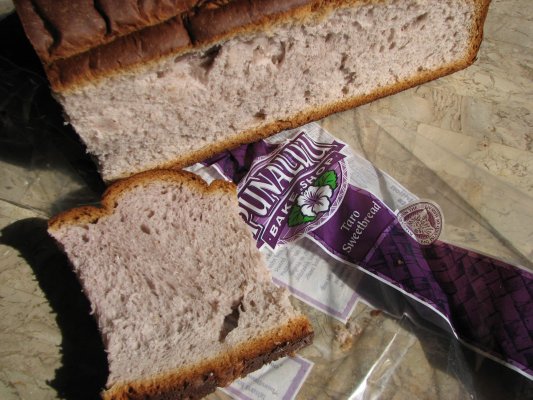 .They also had some pink Guava sweetbread and some rainbow breads made from a mixture of the Traditional, Taro and Guava flavored breads. Plus some rolls with the same flavors.
.
Now to get back to the coconut turnover. Yes, the Punalu'u Bakery makes terrific coconut turnovers, here are some closeups of the turnover:
.
.
.
Are they the best coconut turnovers I have ever tasted? Absolutely!  However the little Filipino Star Bakery in Hilo makes some really terrific tasting ones too!
Aloha!
To go to the Punalu'u website visit: http://www.bakeshophawaii.com/