Video # 2 Fermentation and Folding Dough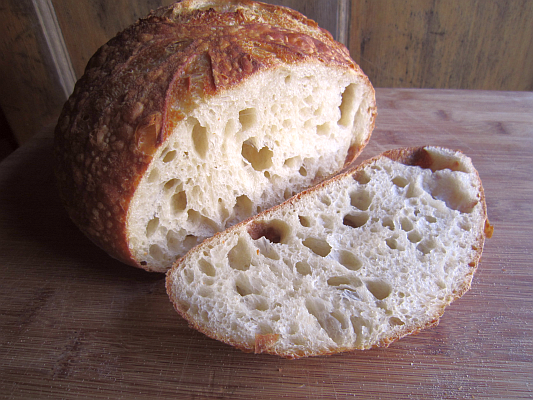 I've got the second video finished. It's called Blister Crust Sourdough Part 2 Fermentaion and Folding Dough.  I am working on video number three which will be about shaping, slashing and proofing. The final video will be about baking and the finished bread. 
With the first video I used blank slides and tried to post title and annotations through Youtube to put the title in the beginning and the formula at the end. However, I realized they didn't show up when using Chrome browser. So if you want to see the comments I make during the video, please use Internet Explorer. I am not sure if Firefox shows the annotations or not. Maybe someone could comment on that.
.
So I went back to the editing software with the second video and put them in manually. I decided not to change the first video because it has been published all over the web and Youtube won't allow me to change it without losing all of the interaction on it.
So without further ado, here it is, Blister Crust Sourdough Part 2 Fermentation and Folding Dough:
.

.
To see what other bakersa are baking visit us at: Perfect Sourdough on Facebook.
Other places you can find me or my books are: Discovering Sourdough Books and my Northwest Sourdough page on FB: Northwest Sourdough FB
And of course you can check out other videos on bread baking techniques on my Channel.  If you subscribe, you will get a notice when the next video is uploaded.
Northwest Sourdough YouTube Channel
.
I will post and let you know when video 3 is finished. Come and join in on the fun, try baking some Potato Water Sourdough!