Pizza Margherita
Pizza Margherita  (a one day sourdough crust formula)
.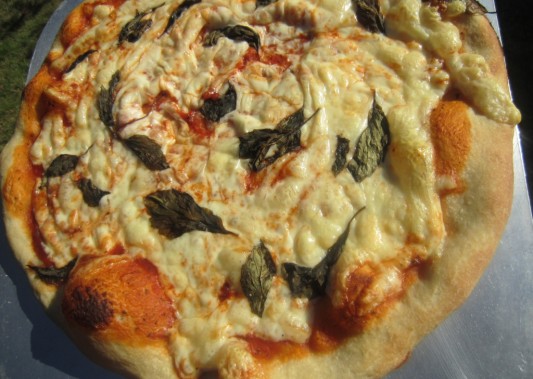 .
I said in an earlier post that I would come up with a one day sourdough formula for a pizza crust. Well, I have one I think you'll like…
I really enjoy the simplicity of  Pizza Margherita. Wikipedia says: In 1889, during a visit to Naples, Queen Margherita of Italy was served a pizza resembling the colors of the Italian flag, red (tomato), white (mozzarella) and green (basil). This kind of pizza has been named after the Queen as Pizza Margherita.
.
Well, mine does have all of those colors so I guess you can say it is Pizza Margherita. I love basil, the smell and the flavor is just right on a pizza. I often cannot keep it for long and a trip to the market is an hour for me, so I sometimes will freeze it while it is still fresh. It doesn't have the eye appeal that the fresh basil does, but at least I have it when I need it. This pizza is sans  fresh basil (I used the frozen basil), but it still tastes terrific! The toppings include a crust spread with olive oil, pizza sauce, mozzarella cheese and basil leaves.
. 
Formula for One Day Sourdough Pizza Crust:
Early in the morning, In your dough folding trough or mixing bowl mix together:
12 oz/340g of vigorous sourdough starter at 100% hydration, which was fed the night before
9 oz/255g water
4 oz/113g evaporated milk
1.5 oz/42g oil (I like to use olive oil)
4 oz/113g white whole wheat flour
9 oz/255g bread flour
.
Mix all of the above ingredients together until you have a nice mass of dough. Then let the dough rest (autolyse) for 15 minutes. After autolyse is over, stir in:
.
.6 oz/17g salt  (stir in well before adding the rest of the flour)
10 oz/283g bread flour
(it can be fun to add a pinch of garlic powder or granulated garlic to the dough – ¼ teaspoon should be enough)
This will make 3 lbs 2 oz /1420g of dough at 65% hydration
.
Knead all ingredients together for two or three minutes and then allow the dough to ferment in a covered container at room temperature for six hours. During the six hour ferment time, fold the dough four or five times to strengthen the gluten.
.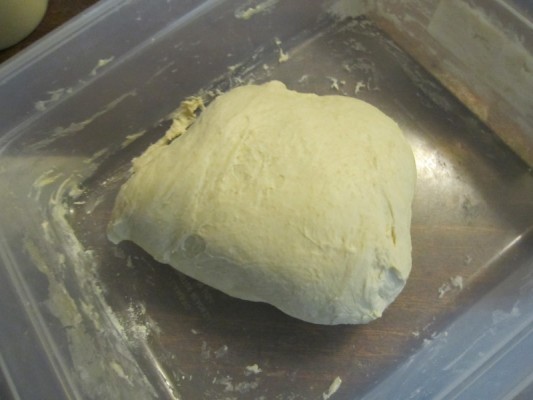 .
Peter has a good video on youtube.com on how to fold dough. Once the six hours is done, divide your dough into two pieces (weighing about 1.5 lbs each). Shape into rounds and spray with oil, cover and let set for 20 minutes.
.
.
Roll/stretch out your dough into a large pizza round, 14 – 16 inches and set the dough on top of a baking parchment paper to proof. Let the dough proof for 1.5 hours. Then top with your preferred toppings and slide pizza onto a very hot preheated baking stone at around 500 degrees for 10-15 minutes with 12 minutes being average.
.
.
The oven/stone is not as heated as hot as usual due to the milk in the dough which adds color and lightness to the dough but will make the dough burn a little easier as well. Make sure your stone is up about 1/3 of the distance of your oven from the bottom. Enjoy!
.