Summer Sourdough
This is Summer Sourdough cooling off quickly in my freezer. I am sending it to a friend and want to cool it down and get it into the mail on the same day. Hopefully this experiment with sending bread in the mail will be successful. Since I am sending it to an understanding friend, he can always toss it in the compost heap if it arrives in sad shape!
.
This was an experimental set of loaves. I had some 70% motherdough with 1% salt in it that I could not do anything with for two weeks (14 days exactly)! I took it out of the fridge to toss it, when I noticed that the gluten was still quite nice.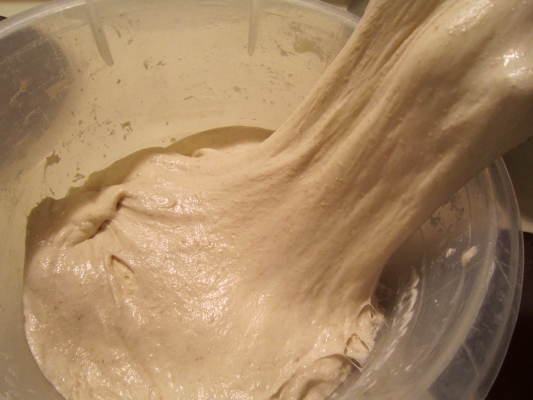 So I decided to whip up a batch of sourdough, since my bread bin was very empty.
This was the same motherdough that I used to bake up Motherdough 70. I had started that batch of preferment on August 3rd (written on the container). I made up the Motherdough 70 and posted about it later in the week. Then got too busy to use the rest of the motherdough (16 oz). Anyway, here is the formula for making the Motherdough Preferment at 70%:
.
Motherdough @ 70% hydration  (the formula is written in blue text)
This preferment will make about 32 oz, enough for two separate formulas (you can use it in Motherdough 70 and Summer Sourdough).
Let the motherdough refrigerate for two weeks. Some patience is needed here! If you are impatient, make the Motherdough 70 first and then the Summer Sourdough later.
After two weeks:
Summer Sourdough – 5 lbs 12 oz /2611g @ 64.2 % hydration
(this makes a large batch of bread, I made four loaves at 1 lb 7 oz each. You can bake them all or freeze some and bake later).
Mix together in a large dough trough:
16 oz/453g of 70% hydration motherdough aged two weeks (must be the motherdough above as it has salt and ww flour). (See link above).
8 oz/226g vigorous sourdough starter at 100% hydration
25 oz / 708g of water
.1/ 2g (two teaspoons) of diastatic malt powder
1 oz/28g salt
40 oz/1134g bread flour
2 oz/56g whole wheat flour
Take your aged motherdough and break it apart into chunks and place it in the folding trough or mixing bowl. Next add your regular sourdough starter. Then add the rest of the ingredients except the flour. Stir all of the ingredients together and then add the two flours. Mix all together to incorporate. Get your hands in there and mix it together well. Or use your mixer on low and mix all ingredients well.
.
Allow your dough to ferment, covered for six hours, folding the dough about four or five times during the ferment time. I started this batch of dough at 10:00 a. m. Once the dough is fermented, place it in the folding container or a covered bowl and refrigerate until evening or at least two hours. This is to cool the dough so it doesn't overproof while it is retarding in the refrigerator overnight.
.
Then divide your dough and shape your loaves, placing them in bannetons or lined baskets. I made four loaves right around 1 lb 7 oz/652g  each. Cover the loaves in their bannetons with a plastic bag and refrigerate overnight. Next morning take our your loaves, staggering them by about 30 minutes each. Allow them to fully proof. I warm proofed them in a warmed up microwave. (Heat a heavy cup of water in the microwave until it boils, then carefully place two of your loaves inside with the cup of hot water, close your microwave and allow the hot cup of water to steam and warm the oven, reheat the cup of water once in a while if it cools down too much).
.
I proofed the first two loaves this way and then added the third and fourth as room was made by baking the other loaves. When you can warm proof your loaves, you get a really superior airy crumb and oven spring. The loaves took three hours to proof. I then baked them in a 465 degree oven which was preheated an hour with my thick baking stone. I also preheated my roasting lid during the last five minutes before placing the slashed loaf on the baking stone.
.
Once you place your slashed loaf on the baking stone, work quickly and spray the loaf really well with water and replace the hot roasting lid over the loaf. Bake for about 18 minutes with the roasting lid on. Then take off the lid, place it on top of your oven for the next loaf and continue to bake the uncovered loaf for 12 to 15 more minutes. Do not turn down the heat. This high heat in necessary to get good color on these long fermented loaves.  After the loaf is baked and well browned, take it out to cool and put the lid back in to preheat for the next loaf. Preheat for at least five minutes and then put in the next loaf… etc.
These Summer Sourdough loaves will have your family and friends begging for more. Have fun baking… I always do!!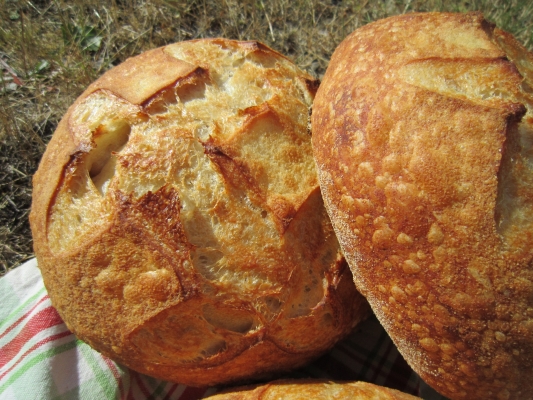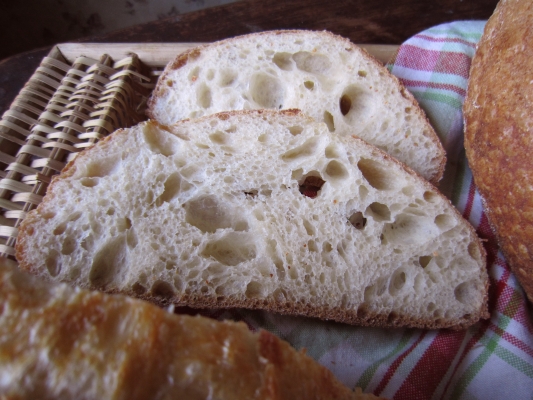 Son and grandson, having fun on a Summer's day: