Basic with a twist
I am working with my Basic Sourdough recipe today. I meant to proof it 5.5 – 6 hours but I got called away by one of my kids and I overproofed by an hour again! 🙁 I think that you need to catch the proofing at just about 1/2 hour before proofing should be done for optimization. So anyway I ended up with slightly sticky dough again. Here is what it looked like after I scraped off the lid and pushed some down (it had gone over the sides):
I poured it out on the table and had to knead in some flour to take care of the stickiness:
I shaped the boules and let them rest the five minutes before twisting them:
Then I twisted the one on the right hand side:

You can see what a difference it makes to twist up the boule. I tried to show it on the video I made but here the camera is at a lower angle so you can see better the heighth acheived by the twisting.
Here is a picture of the boule resting in the banneton. You can see the twisting of the dough from the bottom: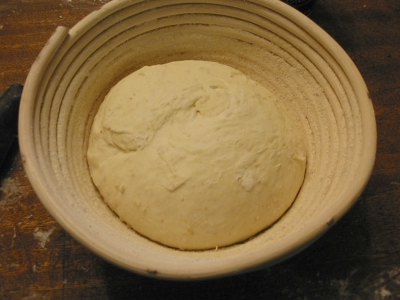 I put the boules to rest in the refrigerator and will take them out and see how the bake goes tomorrow.
This morning so far, I have taken the boules out one by one and have waited for three hours for the first one to go in. However, the first loaf is springing very nicely!
This is one of those cases why I say on my website, that you have to wait up to three hours to proof. I have taken loaves, done with the same basic recipe, out at 6:00 a.m. in the morning and turned my oven on right away. There are just so many variables. Room temperature, starter vigor, salt, proofings, etc. I think that when you overdo your first proof, you can have a longer second proof than you would expect otherwise. I am not completely sure about that, but it is one reason I try to catch the first proofing just before it is done and not after. There is something about the exhaustion of the dough if left too long the first proof, that makes it more sluggish. The dough is still good, as my loaf springing up nicely in the oven will attest to, just not optimum.
Here is the picture I promised to take of the dough in the banneton just before it went into the oven:
Here it is just dumped out, you can see how high the dough is sitting.
Here the dough is slashed and going into the oven….but…..!!!
I did not slash deeply enough and I got a ….BLOWOUT!!
Jeesh…it only happened because you all were watching!
I didn't zone in on the other two loaves and they came out great!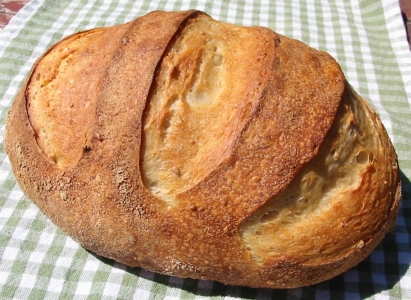 Here are all three together:
Here is a picture of the interior with the blowout loaf on the left:
Closeup: