BBB one extra day…
BBB…Big Bear's Bread. I am in love with this bread. It is so moist and delicious. It stays fresh days longer than other lean white sourdough breads. For those of you who do not have a dedicated refrigerator, I made this batch using a regular temp refrigerator (39F).
Follow the directions for making the regular Big Bear's Bread (click here for the formula and a printable page), but instead of retarding the biga-like dough at 46F, just use your regular refrigerator to hibernate (retard) your dough and leave it in an extra day. If you have a cool pantry (around 50F), allow the dough to set at the warmer temperature for the last day and night. If you can retard the dough right around 50F for that last day and night, you will have a really nice sour tang.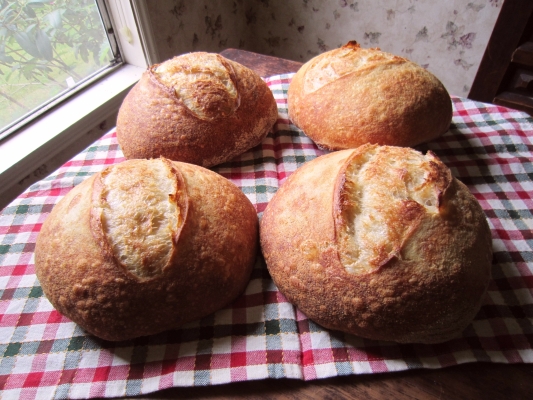 Go ahead and follow the regular formula at this point. The slurry is a bit difficult to incorporate into the biga-like dough. What I do is try to incorporate it until the gluten strands start to fight me, then I just leave it and come back every hour for a folding session. By the last fold, the dough is wonderful, soft, the slurry is well incorporated and it is easy to handle, although very sticky.
Big Bear's Bread.. hibernated in a cold refrigerator: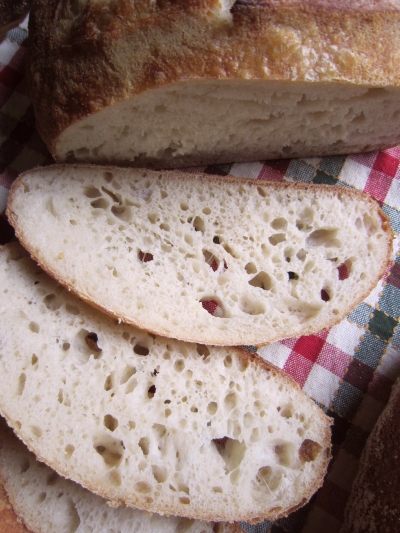 Whichever version you try, you won't be disappointed! However, the first version using the dedicated fridge, has a deeper sour flavor.
I just need to get a loaf of this bread to Big Bear himself!