Cheesy Topped Loaf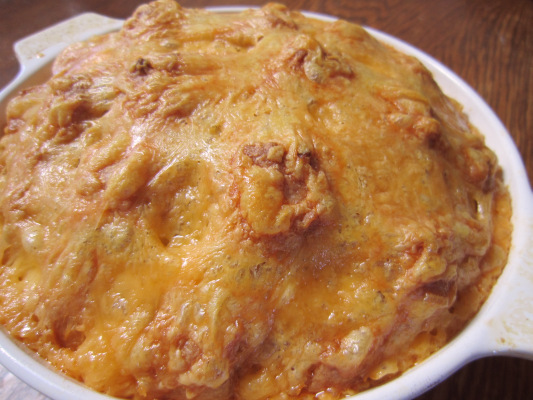 This is a companion post to the post Fig-caccia! If you want to make Cheesy Topped Loaf, the formula is at: Fig-caccia!
I made the dough using the formula found on the linked page. I used half of the dough for the Fig-caccia! and half of the dough for the Cheesy Topped Loaf. The dough is 77% hydration and wet, but not too wet as I used a large amount of whole grain flour in the formula. 
Cheesy Topped Loaf:
After you take out the dough the next morning:
Shape Cheesy Loaf  into a round boule.
Place it seam side down in a round 7.5″ or 8″ baking casserole dish that has been oiled.
Slash the dough deeply into a checkered pattern (in this picture, I waited until the dough was proofed to slash and it was difficult to slash, so slash right after you shape the loaf). Spray the top of the loaf with spray oil and allow to proof 3 – 4 hours.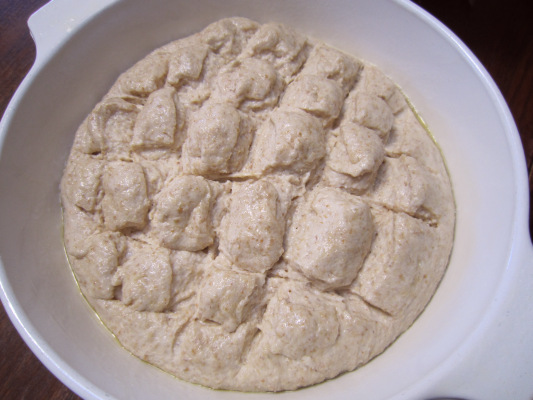 Top with 140 grams of shredded cheddar cheese.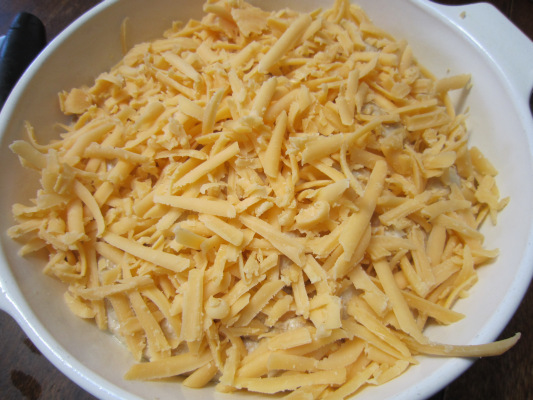 Bake at 450F for 30 minutes. Remove the bread carefully from the hot dish and return to the oven for 10 more minutes baking time. The dish insulates somewhat from the heat of the oven so return it to brown up the sides and bottom of the crust and make sure it is baked to the center of the loaf. I baked on my hot stone with the dish and without the dish.
Remove your Cheesy Topped Loaf and allow it to cool. If you cut the bread into wedges, you will get more cheesy topping!
Join us and have fun in my online sourdough baking courses. See here for more info: Online Sourdough Baking Courses