Easy Scrumptious Sourdough Brownies
These sourdough brownies are quick, easy and taste super! They use only fermented sourdough starter so the flour in them is completely fermented. When you need a quick dessert and brownies sounds just right, and when do they ever sound wrong? then whip these up and serve them warm with some whipped cream, your favorite icing or plain, they're that good! The sourdough starter is best to use when the gluten has broken down a bit like after 10 -12 hours after feeding at room temperature.  
Before you decide to make this version see here: Revised Sourdough Chocolate Brownies
Easy Sourdough Brownies
Unsweetened Baking Chocolate chopped- 113 grams (I used one bar of Ghirardelli baking chocolate with NO sugar in it.)(if you substitute semi sweet chocolate chips then double the amount of chips to 226 grams and use only 100 grams of sugar. Semi sweet chocolate is about half sugar).
Sugar – 222 grams (see note above if you are using semi – sweet chocolate chips).
 100 grams oil or substitute melted butter.
Vanilla extract – 5 grams
2 large eggs – 116 grams (approximate).
Pinch of sea salt about 1/4 tsp (only if you used oil, butter already has salt in it, so NO SALT if you use melted butter).
Baking soda 1/2 teaspoon
Sourdough starter @ 100% hydration – 170 grams (I used mine at peak but you could use discard if you wish).
Chop your chocolate into chunks.
Melt the chocolate. I used the microwave and after one minute, I put in the butter with the chocolate chips. It took about two minutes. Give it a good stirring so the chips fall apart and the butter and chocolate meld together.
Add the sugar (don't cut down the amount), (oil -if you didn't use butter) vanilla, eggs and soda. Whip all ingredients together. Add sourdough starter. Mix just until it comes together and no more.
Pour the batter into an oiled pan about 9 – 9.5″ in diameter (mine was 9.5″).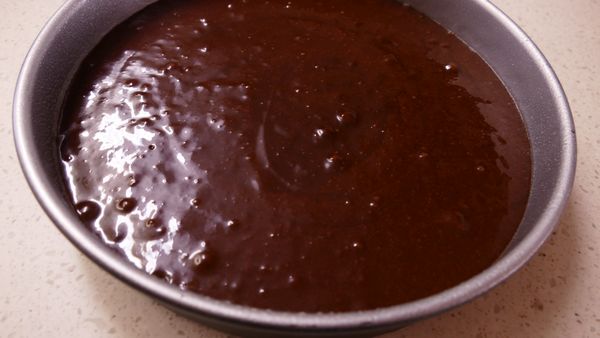 Bake at 350F/176C for 20 – 25 minutes ( a bit more if you used a smaller pan). Check often after 20 minutes, it's critical NOT to overbake. The brownies are done when a knife or toothpick inserted in the center slides out clean.
When the brownies come out of the oven they will be puffed up but will shrink after they cool a bit.
Slice when you can no longer stand it and enjoy! I couldn't get the first one out of the pan without it falling apart since these brownies are so tender. They firm up more once they are cooled.
Happy Baking Everyone! Teresa
Interested in taking a course to learn to bake real sourdough? See here.
For up to date information on what's baking join my newsletter.