Sourdough Pita Flatbread
I baked up some pita pocket breads today or flatbread.  It is so good when you make your own fresh and hot off the baking stone!
Sourdough Pita Flatbread
10 oz/283g 100% starter
13 oz/368 g water
4 oz/113 g milk
1.5 oz/42g oil
2 oz/56g sesame seeds
.6 oz/17g salt
4 oz/113g whole wheat flour
22 oz/623g bread flour
Place all of the above ingredients together in a folding trough or mixing bowl.
Mix well. Allow to ferment, covered,  for four hours, folding once.
Place in the refrigerator overnight. Next day, whenever you are ready, take out the dough and let it set at room temperature, uncovered, while you preheat your oven and stone to 500F (about an hour).
Divide your dough into 12 pieces and pre-shape the pieces into round balls ( they are just under 5 oz/141g each).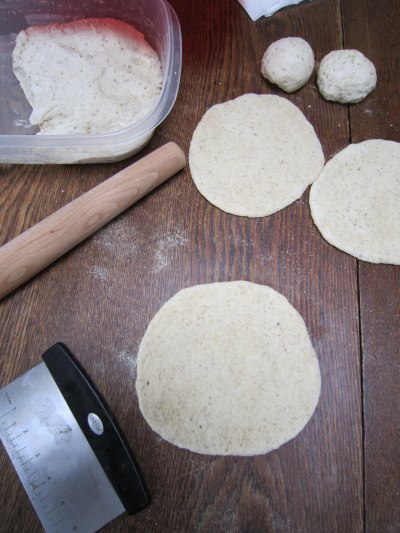 Then roll the dough out to circles about 8 – 9 inches in diameter. ( I usually roll them into about 5 to 6 inch rounds, let them rest and then roll out to their full extent, it is easier to keep them from bouncing back  if you do it in stages with a rest in between.
The dough is a little sticky so use whole wheat flour for dusting your surface.
When the oven is ready place the dough circles directly onto the hot stone and bake for about 3 minutes.
Then flip the dough and bake 3 more minutes.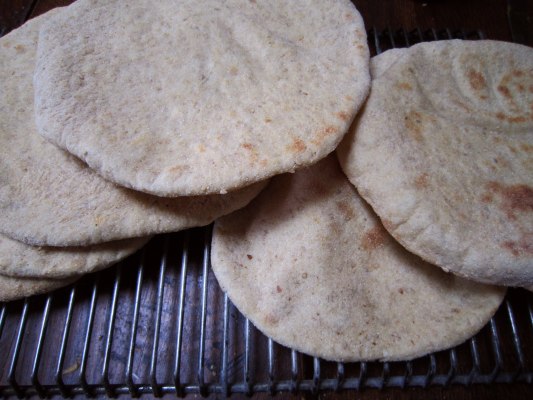 Adjust the time needed, depending upon the outcome of the pita bread, if too brown and crunchy lessen the time, if too soft and pale, extend the baking time.
Top with pesto sauce, cheese and topping and rebake for a nice little pizza or slice in half and stuff for a pita sandwich.