Sourdough Biscuits in a HURRY…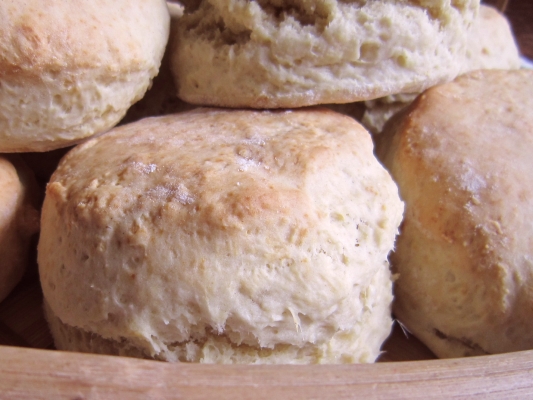 OMGosh I have been busy! I wanted to bake up some sourdough biscuits this morning at the request of my kiddos. Of course I couldn't just whip them up, I had to make a formula first! Well I was halfway through mixing when my boss called and said, " Come to work stat!"   Jeesh! So I said, "Hey, I have some sourdough biscuits on the way!" So these biscuits might look a bit hurried, but they were really good and I snuck a couple to work….my boss likes it when I do that.
I can really relate to you working folks now. How do you bake bread around a schedule? So I am working more with motherdoughs as they last in the refrigerator longer especially with a pinch of salt. I need to make some sourdough bread before taking off soon for advanced CERT certification and fire rescue training. If I don't, my family will have to eat…. gulp… breath Teresa…. store bought bread 🙁   Now that is neglect. Something you really would need to get rescued from….  🙂
.
Sourdough Biscuits in a HURRY!
In a large mixing bowl mix together:
6 oz/170g vigorous sourdough starter @ 100% hydration
5 oz/141g milk
5 oz/141g water
2 oz/56g melted butter
Set bowl aside and get another medium bowl and mix together your dry ingredients:
18 oz/510g All Purpose Flour (use part pastry flour if you have some)
(I sometimes substitute part of the flour with  a Tablespoon of flaxseed and/or a Tablespoon of wheat germ in my dough)
.4 oz/11g salt
.5 oz/15g Baking Powder (1 Tablespoon)
.1 oz/4 g Baking Soda (1 teaspoon)
.6 oz/17g Sugar (rounded Tablespoon)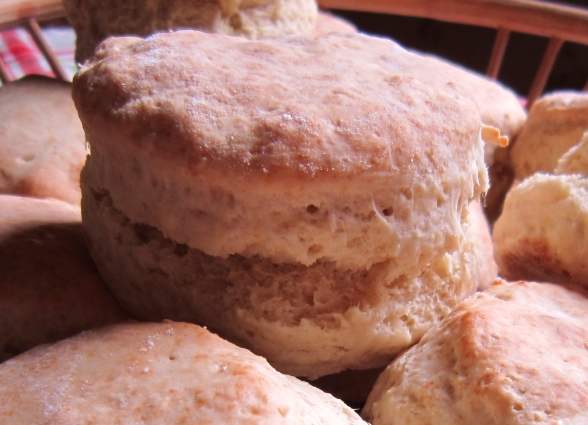 Mix all dry ingredients together and then pour into the first bowl which contains the wet ingredients. Incorporate the two together until you have a cohesive mass. Then turn your dough out onto a lightly floured surface. You do not want to incorporate too much flour into the dough at this point, just enough to keep it from sticking.  Knead the dough just a few times and then pat it out or roll it out until it is about 1.25 inches thick.
Do not over handle the dough or your biscuits will be tough. I can NEVER keep a biscuit cutter so I use a standard food can with a diameter of about 3″ and cut the dough with that. It helps to have a hole punched in the side that is not doing the cutting so you can release the dough easier. Be careful of any sharp edges inside the can if you have little people helping out. Place the cut biscuits on a oil sprayed sheet pan and wet the top of the biscuits or spray with oil, or brush with butter.
Then bake at 430F for about 15-16 minutes or when you rip one open it is done in the middle. Turn the pan at least once for even browning.  Serve immediately with lots of fresh butter, honey, jam or well, you know, whipped cream and blueberries….. 😉  Makes about 10 big fat biscuits.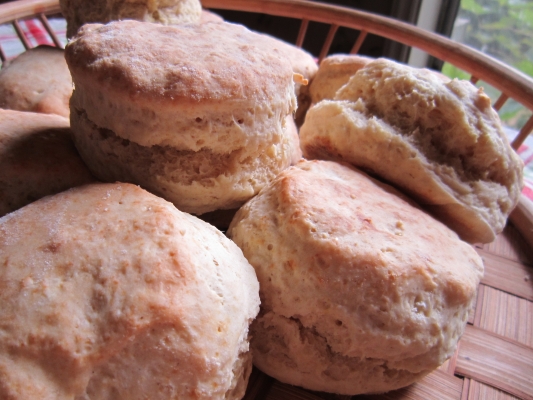 Have fun baking… I always do!  🙂
Click here to see my sourdough baking courses:
Learn to Bake Classic Bread, Artisan Sourdough
Bake Real Artisan Sourdough Bread like a Professional