A Great Day! And…Pi Li Li's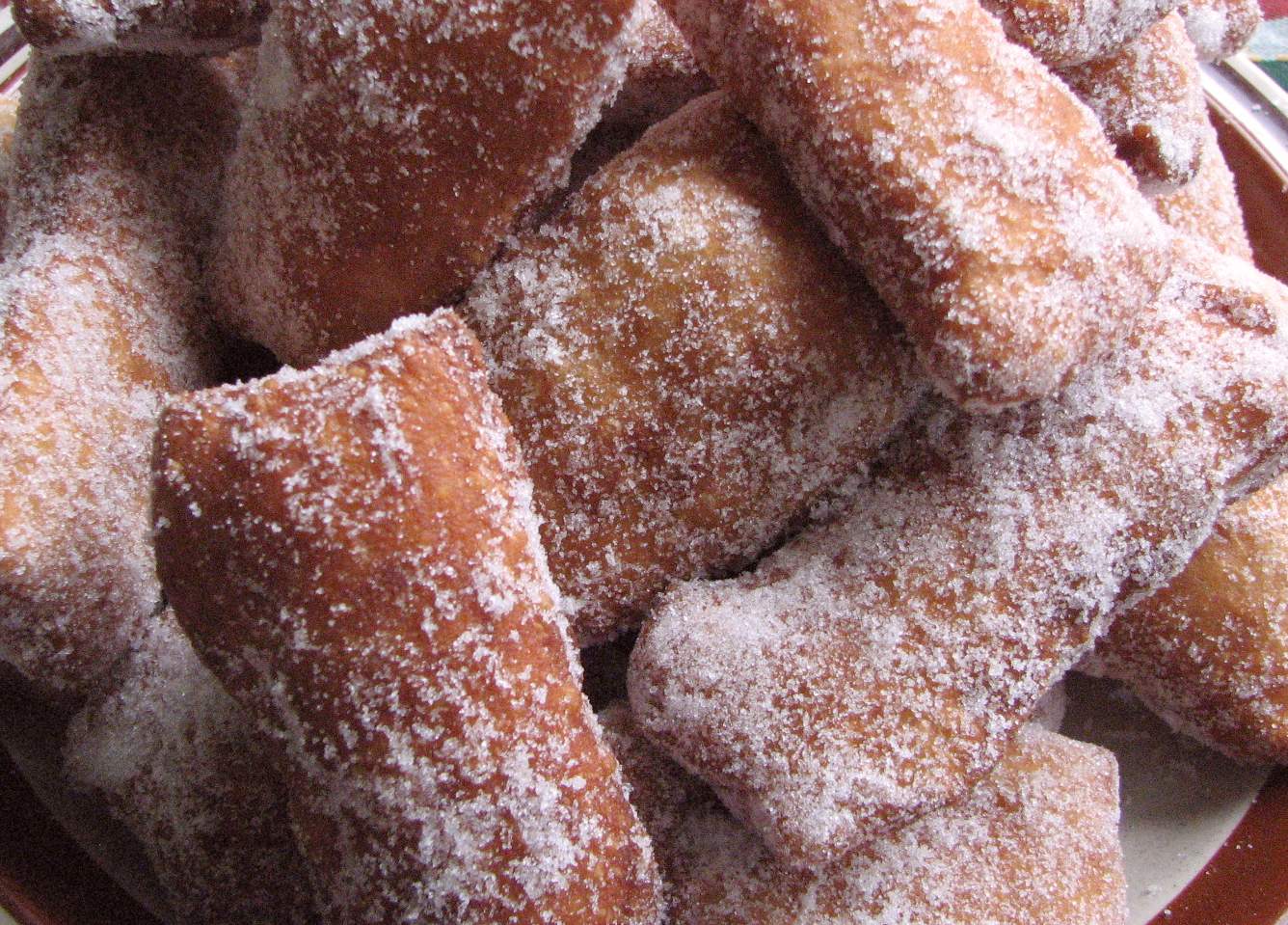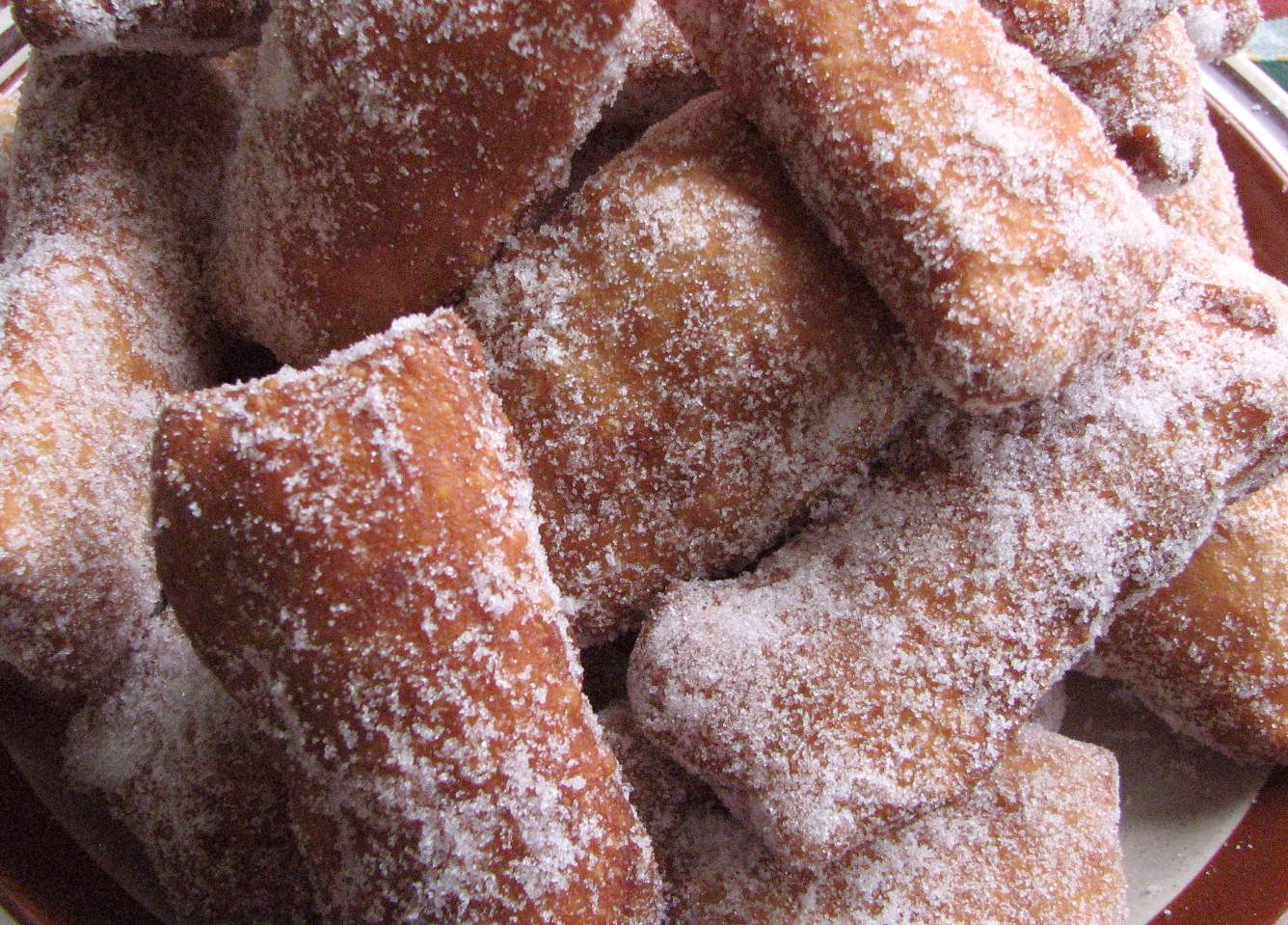 Pi Li Li's or Pee Lee Lee's, whichever way to want to spell it,( it sounds like the second version) are little fried pillows of dough. These are a sourdough version of a fried doughnut that grandma made. Quickly made, rolled in sugar, or cinnamon/sugar, powdered sugar or dunked in a honey glaze, they are great for a Sunday breakfast.
The dough is soft and is handled like a biscuit dough where there is minimum handling and you keep the dough and surface dusted with flour. To make up add to a large mixing bowl:
Sourdough Starter 166% hydration – 1 cup/9 oz/255g   (255 grams of 166% starter = 192 grams 100% starter plus 63 grams water).
Water – 1/2 cup –4 oz– 113g
Canned milk – 1/2 cup –4 oz– 113g
Vanilla extract- 1 Tablespoon–.5 oz–14g
Sugar- 2 Tablespoons– 1 oz–28g
Salt-1.5 teaspoons– .3 oz–9g
All Purpose Flour-3 cups–14 oz–396g
Whole Wheat Flour- 1/2 cup–2.1 oz–59g
Baking Soda-1/2 teaspoon
Baking Powder- 1 teaspoon
.
You can divide the wet and dry ingredients into two bowls, mix each separately and then combine. Or…you can be lazy like me and put in the wet ingredients, mix, then add the dry ingredients to the top of the wet ingredients and then mix again, until you can gather the dough into a ball.
.
Take the dough ball which should weigh right in around 2 lbs and place it on a floured surface. The dough should be sticky. Knead the dough about 10 times getting a bit of the flour into the dough to stiffen it a little – you want the dough soft and slighty sticky. Then keeping flour on the bottom and top, roll the dough out into a rectangle about the size of 14″ x 12″.
.
Let it set for five minutes to rest. Then take your dough scraper blade and cut the dough into small pieces about 3″ x 1″ or whatever small size you like. If your dough isn't exactly a rectangle like mine, some of the pieces will take on their own size anyway. 🙂
The secret (yes, of course there is a secret!) to light fluffy Pi Li Li's filled with air, is to take the dough and stretch it. I stretch it a bit widthwise and lengthwise and then let the dough pieces set and wait their turn. I took a piece of dough and did not stretch it, and then did a stretched dough and compared the two for you:
these two pieces of dough were selected because they started out the same size, look at them now! The one on the left was stretched, the one on the right was not.
You can see the two back pieces are mostly hole and very fluffy and large, the front and right side pieces are dense.
The dough pieces are fried in oil which is the temperature best used for doughnuts- 350-375 F degrees. The best fat to use for doughnuts is a fat which is solid at room temperature, but I like cooking in vegetable oil even if they are a little more oily when finished.
.
So you have to decide which works best for you.  I use a heavy bottom large skillet and put in 1.5 – 2 inches of oil. Make sure the oil is up to the right temperature before dropping in your dough, and make sure to bring up the temperature each time between Pi Li Li's.
.
I usually fry four pieces at  a time, they take around one minute per side. I like to push the dough under with a spatula while it is frying on the first side, to get the top down under the hot oil too, but just for a few seconds.
.
Then take out your done Pi Li Li's and drain them on a rack. They need to cool a bit before you shake them in sugar.
After they cool down a bit but are still warm, shake them in a brown bag of sugar or sugar/cinnamon mixture or powdered sugar. You can also thin down honey a bit with some water and then dip the warm Pi Li Li's in the honey glaze.
.
Next place the Pi Li Li's on a plate on the kitchen table and see how long they last!
.
This is another recipe that is good for using up the extra sourdough starter.
.