Peter Reinhart's new book…Artisan Breads Every Day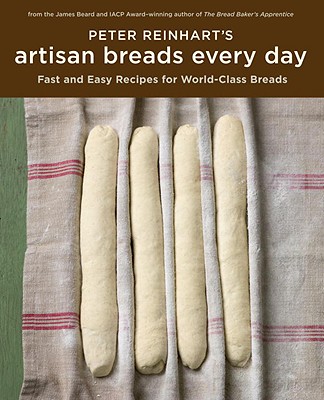 Peter Reinhart's new book is out! I have two signed copies, one for myself…and one…for one of you… 
The copies are on their way in the mail and I expect to receive them this weekend.
This is what Peter said in his resource section at the end of the book:
"For sourdough fanatics, join Teresa Greenway and
her group of correspondents at www.northwestsourdough.com
to share the passion."  Peter Reinhart
You can imagine how surprised I was!
.
I previewed some of the content online at Amazon.
It looks terrific and has really nice photos!
I had to edit this post because the links were out of date. So here is a new link of Peter doing a Ted's Talk:
Peter helped me get my manuscript into the hands of  the publisher, Ten Speed Press…and I want to help him by promoting his new book.
.
So anyone who posts something nice about Peter and/or any of his books on this post will be entered into a drawing to receive a signed copy of Peter's new book, Artisan Breads Every Day. Anyone who links to this post from their blog will get their name put in the hat twice, just let me know you linked in. You have until November 15 to leave a comment.
.
Also, go check it out at Amazon and purchase a copy for your favorite person for Christmas!
.
Happy Baking Peter! And …Thankyou! Teresa
.