Sourdough Latvian Apple Cake
This is a variation for an old recipe called Latvian Apple Cake. What is so cool about this recipe is that you can substitute just about any fruit and make a terrific dessert. Think pear cranberry, blueberry, peaches, mixed berries, plum pear, apple cranberry, etc. It is an easy elegant dessert and it tastes delicious!For this cake, you slice up the fruit and then pour a batter over it. Somewhat like a cobbler or pandowdy. Also Bisquick used to have those "Impossible Pies" that were similar.
This sourdough variation can help you use up that leftover sourdough starter that you don't want to throw out.
Sourdough Latvian Apple Cake:
Use a large round casserole dish 10″ diameter. Spray the dish with oil or butter the inside and then set aside.
In a medium saucepan lightly brown:
6 oz/170g of butter. Be careful to watch it and stir constantly so you don't burn it. Take the pan off of the stove as soon as you notice the butter browning.
 
Quickly add 4 oz/113g of milk and
4 oz/113g of sour cream. Stir well.
1 teaspoon of vanilla extract.
Add two large eggs and beat the mixture with a whip.
Next add to the mixture of sourdough batter:
4 oz/113g of white sugar to the mixture and beat again until smooth.
3 oz/85g of All Purpose flour
 5 oz/141g of 100% sourdough starter and stir.
Set this bowl of batter aside.
Peel, core and slice three large apples, weighing about 26 – 3o oz/737g-850g  of apples (before peeling/coring). Place the sliced apples into the casserole dish and then sprinkle the apples with: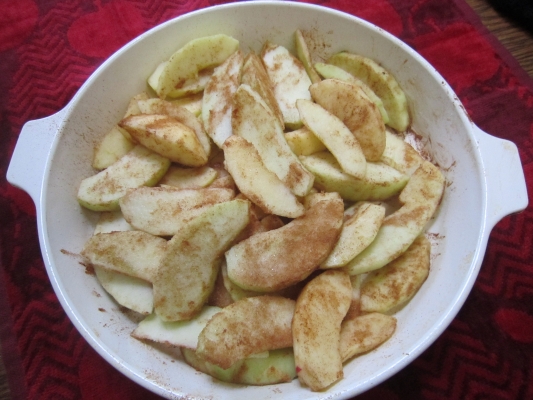 2 Tablespoons of sugar
1 teaspoon of cinnamon.
Pour batter over apples and sprinkle the top with a bit of sugar and cinnamon.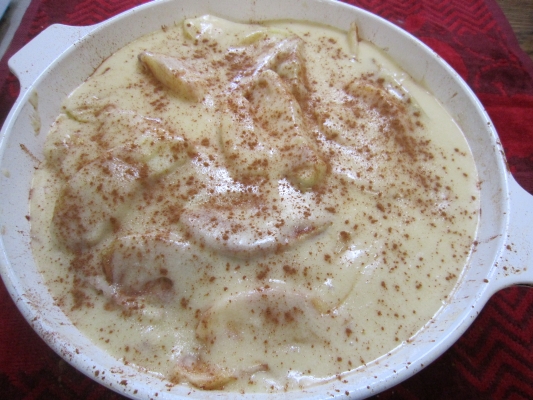 Bake uncovered for about  one hour at 350F/176C
Sprinkle with powdered sugar. Enjoy warm with whipped cream or ice cream. YUM!
Thanks to my daughter Rochelle Nelson for posting the old fashioned Latvian Cake on Facebook and inspiring this version.
My only regret with this cake is that it makes more than we can eat… where are those neighbors????