Sourdough Ginger Cake with Blueberries 'n Cream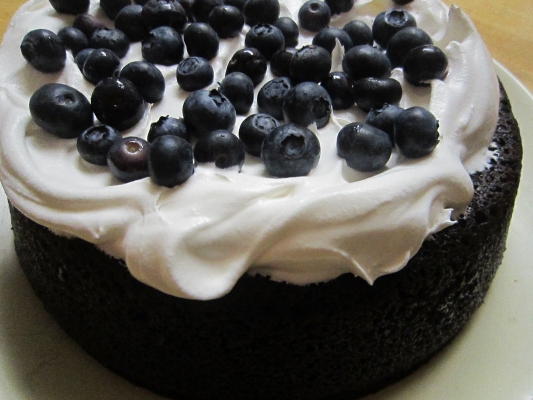 I baked up a Sourdough Ginger cake in a bundt pan to take to a get together. This recipe is a variation on my Sourdough Gingerbread cake. Baking it in a bundt pan had the effect of making the cake more dense. .
That is somewhat to be expected with a cake baked in a bundt pan. The thickness of the batter would make it harder to raise up than a flat cake. However, my kids always fight over the dense parts of my standard Sourdough Gingerbread cake. The standard cake always sinks a little in the middle, creating a dense part in the middle, much sought after and fought over.
.
Another variation that you can use to change the intensity of the flavor is to use dark molasses instead of the regular molasses. I used the darker molasses and it made for a very rich dark intensely flavored Ginger cake.  I topped off the cake with whipped cream to balance out the intensity and topped with blueberries for aesthetic appeal and flavor interest.
.
So here you go, have fun!
Sourdough Ginger Cake with Blueberries 'n Cream
.
In mixing bowl number 1 add:
Brown Sugar (use dark brown for more flavor intensity) -8 oz
Molasses ( try dark molasses)- 11 oz
Soft real butter -8 oz (two cubes of butter)
Beat all of the above ingredients together with a beater or mixer until incorporated.
Then add:
2 large eggs
Sourdough starter @ 100% hydration – 9 oz
Beat together all of the above ingredients until you have a smooth creamy mixture.
In bowl number 2 add:
All Purpose flour – 8 oz
Ground ginger – 1 Tablespoon
Cinnamon -2 teaspoons
Baking Powder – 3 teaspoons
Stir together the above dry ingredients until well mixed.
In bowl number 3 add:
Hot water (about 117- 120F) – 3 oz
Baking Soda – 1 tsp
Mix hot water and baking soda and then add the contents of bowl number 3 to bowl number 1. Mix the two wet ingredients together. Next add the contents of bowl number 2 (the dry ingredients) to bowl number one. Mix all together until a smooth batter is formed.  Pour the batter into a large bundt or angel food pan which has been sprayed with pan spray.
Bake at 350F for about 45 minutes or until the top of the cake bounces under gentle pushing or a sharp thin knife blade comes out clean.
Allow the cake to cool for 5 minutes, loosen it from the sides with a knife and gentle bouncing.
Then turn it upside down on the serving plate or cooling grate. Let the cake completely cool. For serving, fill the hole in the cake with whipped cream, then spread whipped cream across the top. Sprinkle blueberries all over on the top for a finish. Serve and enjoy the compliments.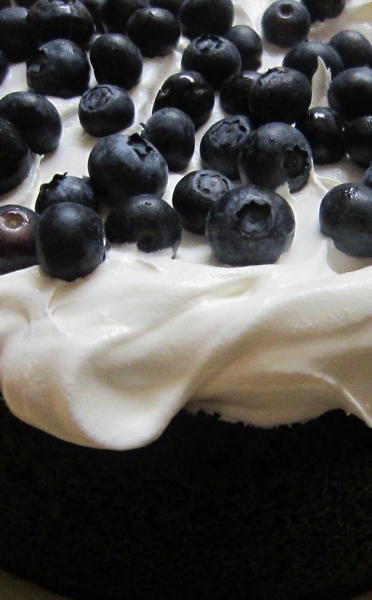 Happy Baking! For more information for online sourdough baking courses see here: Online Sourdough Baking Courses.