Seattle Sourdough… Warning Critical Review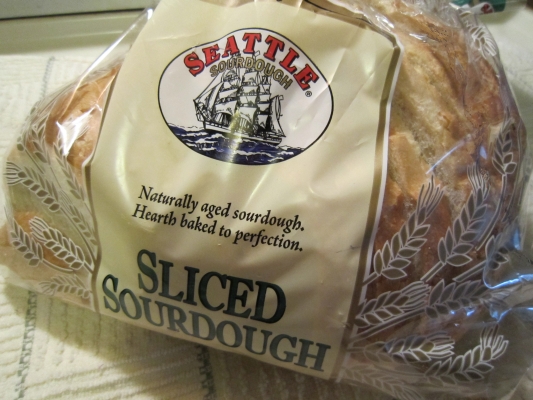 If you are the kind of person that doesn't like the truth… this blog post is not for you. If you are like one lady who felt I had no right to an opinion about whether I liked a certain brand of flour or that everything must be neat, tidy and kind. Then this post is not for you. If you are the kind of person who likes cheap bread filled with chemicals…this post is not for you. If you are not used to real artisan and sourdough bread… bye.  If you don't really like an honest review of something… go away…
Now… you can't say you weren't warned!
As many of you know, I often will purchase random sourdough or artisan breads when I am out and about and then review them. I have found some surprisingly good sourdough bread in unlikely places and some not so good sourdough in more places than I care to remember. This is one of those times.
I picked up a loaf of Seattle Sourdough from a store in town. It looked good through the packaging. It hefted nicely at 24 oz. Once I got it home, I tried it out. Was I ever disappointed. The sourdough bread wasn't as bad as some I have tasted, but I was disappointed not only in the flavor and texture, but for other reasons.
The flavor was … not there. Sure there was a slight acidic taste as it went past the back of the tongue, but other than that, there were no complex flavors at all. The bread was dryish and clumped into a pasty ball in your mouth when you tried to chew it. Perhaps if I got a loaf right off of the cooling rack, I might have a different story to tell. I do have to give them the benefit of the doubt. I don't really know how many days out of the bakery this bread was.
What I do know however, is that it is NOT sourdough bread. There was NO sourdough culture listed in the ingredients. There was yeast (which means commercial yeast) and for flavor and acidity they used distilled VINEGAR (!) The Ascorbic Acid added some acidity as well, but is used mainly as a dough conditioner, making the dough stronger.
On the front of the bag, it says, "Naturally aged sourdough." I wonder what that means? Naturally aged? Aged with commercial yeast? Sourdough? I don't think so. There were no flavors or textures to suggest it was real fermented sourdough at all.
I am disappointed for several reasons. I am proud to be a Washingtonian and Seattle is our place. To suggest this is Seattle Sourdough is to say Seattle can't produce world quality sourdough bread. I can't believe that is true. They should have stuck to their company name, "Franz." Franz Sourdough, leave out the name Seattle please. Here is a link to their website describing this bread:
http://www.usbakery.com/products/french-and-sourdough/seattle-international-sourdough-round
I found that some of the breads on their site did say made with "sourdough culture." However, it makes me wonder if the sourdough culture they list is just dumped into the batch along with commercial yeast or if they actually do take time to ferment the dough to make REAL sourdough. I did find one bread listed on their site that did list sourdough culture as one of the ingredients. It was the Sourdough Garlic bread:
http://www.usbakery.com/products/french-and-sourdough/seattle-international-garlic-sourdough-round
Using vinegar in bread and calling is sourdough is … is… well, it's a crime. It just shouldn't be done. Besides the crust being a bit dry and crumbly, it seems as if they have a fairly good chance at producing a decent crust. The bread itself is edible, it is just disappointing.
So I challenge you Franz, contact Bread Bakers Guild of America and see if you can get some help learning how to produce real sourdough in a large bakery environment. I know it isn't easy, but perhaps there are some things you can change to  allow your dough to ferment longer using real sourdough culture that will help make your "Sourdough" bread real sourdough bread and not "Vinegardough" bread. Maybe even a morph of sourdough culture with a longer ferment and a spike of commercial yeast to jumpstart the process and make the timing more dependable for a large bakery.
I challenge you because I think you have it in you to produce some of the best sourdough in the Northwest and make us here in Washington and Seattle proud. I think we have the right to ask for this since it reflects on us here in Washington… don't you Washingonians think so?
Go for it….. I will be the first to give you a great review once you succeed.