Brod and Taylor Bread Proofer – Review

Brod and Taylor sent several of us online blogging bakers their new Folding Bread Proofer. I was one of them. My Technical Administrator on the Sourdough Forum and I were talking about jerry rigging our own proofer before I received notice from Brod and Taylor about testing their new proofer.
.
We wondered if Brod and Taylor's proofer was a glorified hot plate and was it worth the money to invest in it. Then, that same week, I heard from them that they wished me to test it out for them.
.
So of course I said "Yes!" I have mentioned in earlier posts a bit about my use of the proofer. Now that I have used it for several batches, I would like to share my observations on Brod and Taylor's new folding bread proofer.

.
Yes, I have been pleasantly surprised, it is well worth the money and knowing what I know now, I would have bought one.   I already got one free so they are not paying me any more to say this, but if I didn't like it, I wouldn't have done a review at all.
.
Here is what I have observed:
The ability to fold up the proofer is terrific. It folds up very easily to store in a skinny place.
Even though the proofer does not have tight fitting seams, it keeps a good even temperature.
It is sooooo wonderful to have the temperature control- that is the single most important feature of this proofer.
The lid has a problem fitting on the edges once you set it up. The hinges are made to fit the item when it is closed or collapsed. If you look under the lid however, you will see where there are two protrusions that fit into some slots for the lid to line up with so it can shut properly. Once you know that, it is easy.
I think Brod and Taylor need to put that on their list of "to redo" items for their next iteration. The hinges need to fit and clip to the open sides as well as the shut case (I know that probably doesn't make much sense, but it will once you get yours).
There is a small pan for adding water to keep the humidity high which is a good thing.
It would be nice to have an internal thermometer so the user can see the temp without having to add their own.
One other problem is that the proofer needs to be large enough to fit two 9″ diameter round bannetons. It will fit them one on top of the other if you have a small grate to put over the bottom banneton: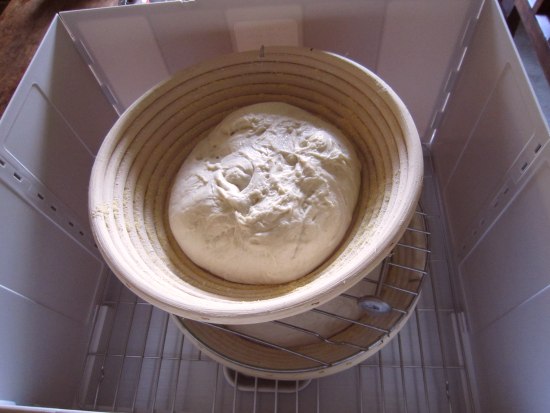 It fits two 9″ small bannetons very well: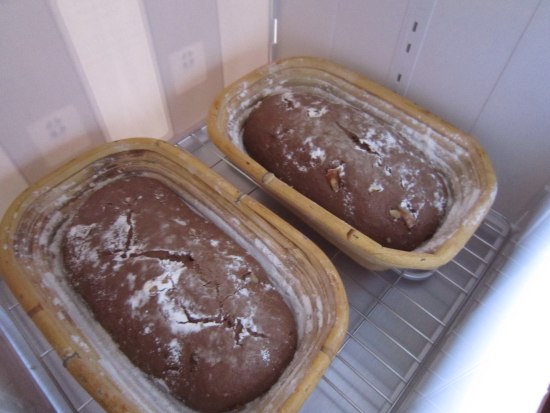 It also will accommodate two 13″ larger long bannetons: (well you can see it WILL fit two, the other one escaped before I remembered to take a pic)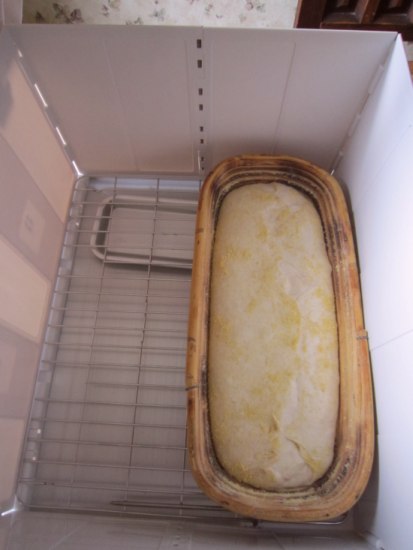 One other thing I would like to mention is that they include a very short cord with a longer one being available for purchase. I needed to run out and get an extension cord right away because I keep the proofer on my dining room table and a short cord would not have worked almost anywhere in my  house. So get the longer cord if you are buying it for a gift for someone.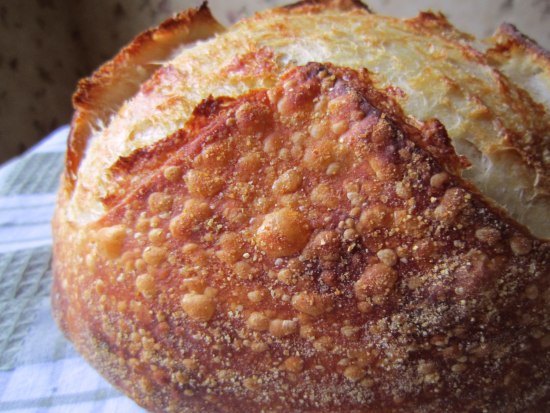 I am really enjoying my new proofer, I am glad I have one. It has made my ability to push the "sour" and "holey" experiments to the max with the ability to control the temperature. The drawback is that while I am able to get some great results using temperature control, I can't pass that on to  you in my blogging if you can't control the temps as well.
. 
I have read about many other uses for the proofer, like tempering chocolate, keeping fondant and other candies warm and even making yogurt (remember a hotpad and towels in the olden days?) . My friend Mike Avery at Sourdough Home mentioned he liked to use his Brod and Taylor proofer for keeping his starter an even temperature.
 .
So I strongly suggest you hint to your favorite Santa Clause to have one under the Christmas tree this year.
Hurrah Brod and Taylor, for an exciting new product for the advanced at home baker.
.Many of us are willing to pay 400.00 plus for a dough mixer, I bought several. However, I got rid of all of them but one and have not used a mixer for about three years, preferring a dough folding trough. So of the two, I would rather do without the mixer than the proofer. Just my two cents worth. If you have a Brod and Taylor proofer,any feedback you might want to share with us is very welcome.
Disclaimer: I do receive a small percentage from any links that send you to Brod & Taylor to purchase it though…
.

Happy Baking everyone!