Having Fun Testing Breads…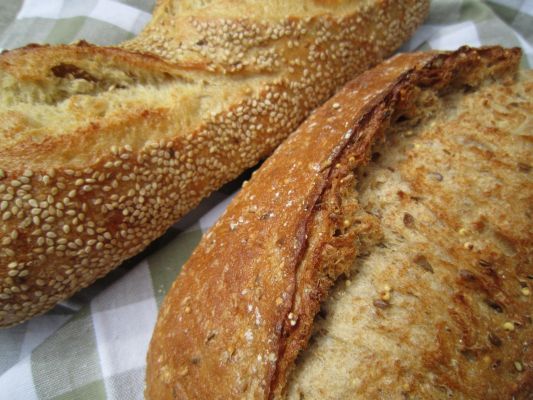 I found a great Natural Foods store in San Luis Obispo called New Frontiers. The store was filled with good things including a wonderful deli, a great salad bar, a meat counter, a cake and cookie bakery, bins and bins of bulk grains, seeds, and other foods, spices and many other items. I bought 50.00 worth of grains, seeds and different flours. I wanted to work on some Mill grain sourdoughs and I didn't have any grains to put into the bread! In the storeI also found some baked breads from La Brea Bakery and a new bakery that I hadn't tried yet, Panne Provincio.
I bought La Brea's Whole Grain Bread for 5.69 , it weighs 1 lb 2 oz and the Panne Provincio bread was a Sesame Semolina loaf weighing in at 1 lb and costing 3.99.
Both breads were good, although I felt the Whole Grain bread lacked depth of flavor as if it wasn't long fermented. So I looked on the ingredient label and it did have commercial yeast.
It was also filled with lots of good stuff: Flour,water, sour culture, whole wheat flour, cracked wheat, dark rye flour, malt powder, hulled millet, flax seeds and honey. Less than 2% of the total ingredients included: Sunflower seeds, cracked barley, salt, cracked rye, triticale, oats, millet, corn,soy beans, brown rice, semolina, yeast, and vitamins.
Toasted, this bread tasted pretty good, it actually brought out the flavor quite a bit once toasted.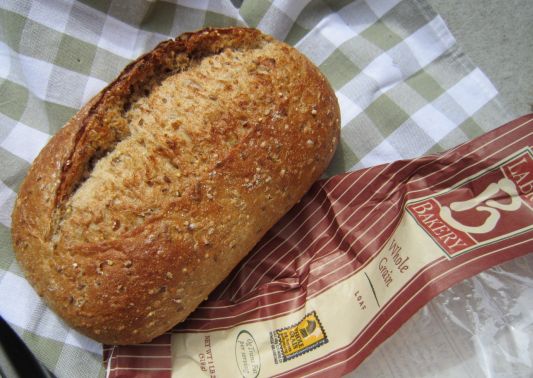 I also bought some freshly ground Almond Butter. Spread on the whole grain bread,  it was a treat worth trying:
The Sesame Semolina Loaf was quite good, although it also contained commercial yeast (sorry, real sourdough is still leagues beyond yeasted bread in flavor, aroma and bite). I love sesame seed encrusted breads anyway, especially when they are toasted.
This bread had a nice crust and chewy bite to it. The ingredients: (Everything is organic) Semolina flour, wheat flour, water, sesame seeds, sea salt, yeast, barley malt ad cornmeal (used for dusting).
Here is a picture of the two breads sliced and showing their crumb: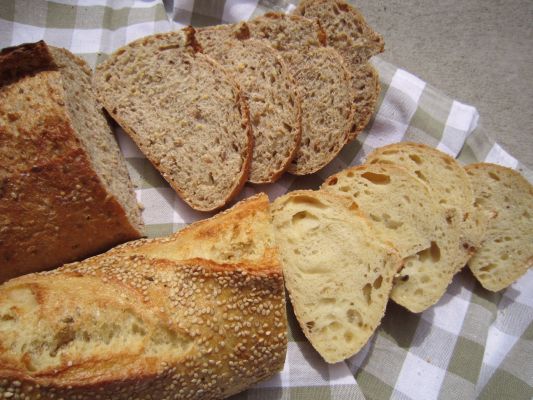 It is actually difficult to find bread baked with only sourdough culture. You may need to find a specialty bakery if you want pure sourdough bread. It takes extra space and effort for bakeries to put out real sourdough bread. If you know of any bakeries in your area that produce real sourdough bread, please comment and tell us their name and address.
Have fun baking!