Sourdough Cinnamon Walnut Rolls
Yea, yea, I am on a sweet dough binge, I know it, my neighbors know it and well, we are not exactly upset about it! I have been experimenting with the soft sweet dough I came up with for the Sour Cream Rolls and the resulting variation is the Sourdough Walnut Roll demonstrated here.
Like I mentioned before, it is difficult to have a long fermented sourdough produce a soft sweet bread, it invariably is somewhat tough although flavorful. That has been a drawback for folks who like to bake 100% wild yeasted breads. Not any more. So lets just dive in:
Sourdough Walnut Roll:(This makes about 4 lbs of dough)
Sourdough starter @ 100% hydration – vigorous- fed the night before -16 oz/453g
Water-8oz/226g
Vanilla extract-.3 oz/8g (about 1.5 teaspoons)
Softened Butter- 4 oz/113g
Sour Cream – 6 oz/170g (don't skimp and get the low fat kind!)
Honey- 1.5 oz/42g
All Purpose flour-Add 16 oz/453g now – 14 oz/396g after autolyse and then use 1 oz/28g for kneading (that is a totalo of 31 oz/878g of AP flour).
Salt- .7 oz/19g – add after autolyse.
This is a one day dough, mix, ferment and bake in the same day, so start early in the morning. Add all ingredients except 15 oz of flour and the salt. This will make a stiff batter dough. Mix this together with a heavy wooden spoon or use your mixer on low speed. Mix just until incorporated and then let the dough autolyse (rest) for 20 minutes.
After autolyse, add the salt and mix in well. Then add 14 oz/396g of AP flour. Mix this into your batter until you have a soft sticky dough. Turn your dough out on your kneading surface and using up to 1 oz/28g of AP flour, knead dough for about 8 minutes. This dough will be soft, the dough has a lot of butter in it so it will not stick to your surface or look really smooth. Place your dough into a covered container and place in your dishwasher which has been warmed to around 90F degrees (I use the dishwasher on the drying cycle and place a thermometer in it to watch the temperature, turn it off when it reaches 90F). Allow the dough to ferment 2.5 hours.
While you are allowing your dough to ferment make up the Cinnamon Walnut spread:
In a medium saucepan :
Melt butter- 6 oz/170g
Add: Honey- 2.5 oz/70g
3 teaspoons cinnamon- .6 oz/17g
1.5 teaspoon Vanilla extract- .3 oz/8g
Brown Sugar- 15 oz/425g
2 cups of large Walnut pieces about 8 oz/226g- Add after bringing mixture to a boil, see below.
Bring to a boil and then remove from heat. Stir in Walnuts. Allow to cool.
This mixture will turn into a sugary walnut mixture. After it cools, I stir it up so it is crumbly.
After the dough is done fermenting. Divide it either into either 1 or 2 lb pieces, depending on how large you want the rolls and how many rolls you want. I made one large 2 lb roll to give away and two 1 lb rolls, one to keep and one to give away. Roll the dough out into circles- about 14 inches in diameter for a 2 lb piece of dough or about 12 inches in diameter for a 1 lb piece of dough.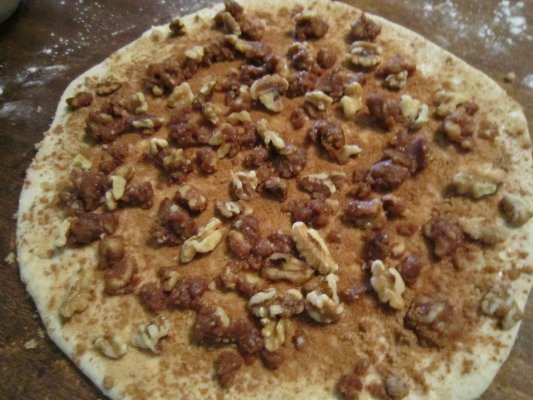 Then spread the dough with  a little soft or melted butter, and sprinkle on some brown sugar and cinnamon lightly. Then add some crumbled walnut mixture to the top, adding more plain walnuts if you want more.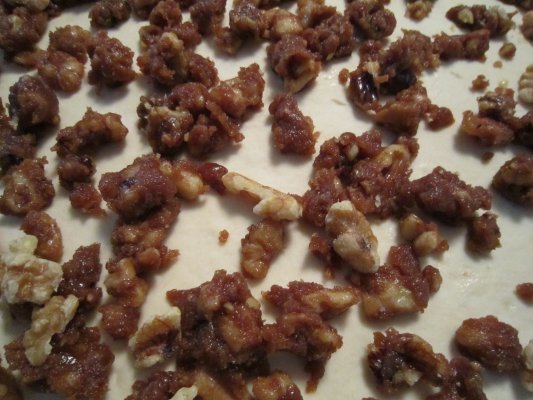 Alternately, you can just sprinkle the crumbly walnut/sugar mixure on top of the dough and roll the dough up without the extra added butter/sugar/cinnamon. It depends on how rich and filled you want your roll. The sugary, walnut, crumbly mixture will melt and turn into a gooey yummy walnut filling while baking….
After rolling up the dough shape it to fit a round oiled pan or pot and slash deeply into the second layer.
Allow the dough to proof in a warm area (dishwasher maybe) for 1.5-2.5 hours. I placed my rolls into a plastic bag while proofing to keep the dough moist.  When the rolls are done proofing bake in a preheated oven at 400 degrees for about 25-30 minutes.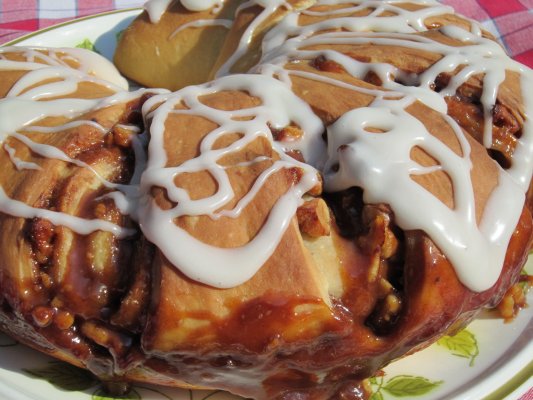 To end on a great note, the dough is soft and makes a terrific sweet bread. These rolls are great for giving as a gift – hope you liked it Ahnya!… or wonderful for breakfast with a hot cup of java…. enjoy!